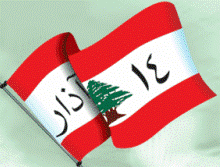 Al-Jumhuriya newspaper reported on Tuesday that March 14 parties will finalize the restructuring of their alliance by the end of the week, adding that the final structure will include a supreme leadership committee, a general coordination committee, and a general committee, according to a well-informed source
The source also told the daily that March 14 will announce a political document stating "the alliance's vision for the future of Lebanon in all domains."
"This document will be an integrated political program that will launch serious opposition to non-state arms."
Al-Jumhuriya's report comes after Former Lebanese president and current Phalange Party leader Amin Gemayel commented during his press conference on Monday about March 14 's alliance structure, by saying that the alliance has been asked to reorganize itself in order to confront the upcoming events
"The Phalange party proposed the restructuring of the March 14 coalition and to form a general council which will include the March 14 parties and NGOs," Gemayel , a key member of the March 14 alliance said .
Gemayel urged the Lebanese people on Monday to take part in March 14's Sunday rally."We strongly urge all March 14 supporters to participate in the Sunday ( March 13 ) rally in Martyrs Square," he said during a press conference.
March 14 marks the 6th anniversary of the Cedar revolution when over 1 million Lebanese gathered in downtown Beirut to protest against the murder of the the late PM Rafik Hariri and called on Syrian troops to leave Lebanon. The Syrian troops withdrew in April 2005
March 14 coalition was named after the anniversary of the Cedar Revolution
Outgoing PM Saad Hariri said Monday in a statement that the ceremony will take place on Sunday March 13 ( ( instead of March 14)) because "we are not disruptive people, it is not in the people's or country's interests to disrupt a working day ."
This error message is only visible to WordPress admins
Error: No connected account.
Please go to the Instagram Feed settings page to connect an account.