Saudi clerics condemn protests and "deviant" ideas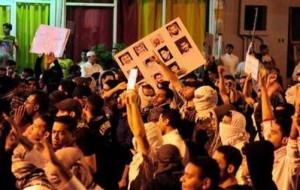 Saudi Arabia's council of senior clerics issued a statement on Sunday forbidding public protests, which the rulers of the U.S. ally and key oil exporter fear could spread following demonstrations by minority Shi'ites.
The kingdom has escaped major protests like those which toppled leaders in Egypt and Tunisia, but the wave of unrest has reached its neighbors Yemen, Bahrain, Jordan and Oman.
"The Council of Senior Clerics affirms that demonstrations are forbidden in this country. The correct way in sharia (Islamic law) of realizing common interest is by advising, which is what the Prophet Mohammad established," said the statement by the body headed by the Mufti Sheikh Abdul-Aziz Al al-Sheikh.
"Reform and advice should not be via demonstrations and ways that provoke strife and division, this is what the religious scholars of this country in the past and now have forbidden and warned against," said the statement, carried by state media.
Security forces have detained at least 22 Shi'ites who took part in protests in the kingdom's oil-rich east, activists said. Neighboring Bahrain has seen protests by majority Shi'ites against their Sunni rulers.
More than 17,000 people backed a call on Facebook to hold two demonstrations in Saudi Arabia this month, the first on Friday. The interior ministry said on Saturday that protests violate Islamic law and the kingdom's traditions.
Saudi Arabia, the birthplace of Islam and home to its two holiest sites, applies sharia law and allows religious scholars wide powers in society. They dominate the judicial system and run their own police squad to enforce religious morals.
The clerics back the ruling al-Saud family's ban on political parties, which they say are not Islamic. Their position on elections to bodies such as the advisory Shura Council has been more ambiguous.
Many clerics campaigned for an elected parliament after the Gulf War in 1991.
"The Council warns of deviant ideological and party-political connections since this nation is one and will adhere to the ways of the pious ancestors," the statement said.
"The kingdom has not and will not allow ideas from the West or the East that take away from this Islamic identity and divide the unity of the whole."
The statement also attacked petitions asking the rulers for reforms. "Reform and advice … should not be via menacing statements that provoke strife and by collecting signatures, since it violates what God ordered," the clerics said, citing a Quranic verse as justification of their position.
A loose alliance of liberals, moderate Islamists and Shi'ites have petitioned King Abdullah to allow elections in the kingdom, which has no elected parliament.
Last month, Abdullah returned to Riyadh after a three-month medical absence and announced $37 billion in benefits for citizens in an apparent bid to curb dissent.
Photo: Protesters demonstrate in the Gulf coast town of Awwamiya March 3, 2011. Saudi Shi'ites staged protests in the country's oil-producing eastern province on Thursday, demanding the release of prisoners they say are being held without trial, witnesses said.