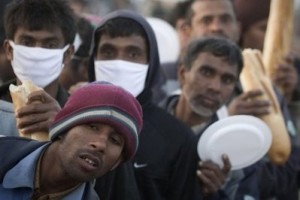 A sudden drop in the number of refugees leaving Libya is both mysterious and "cause for concern" according a UN agency, noting that the number of people crossing the border into neighboring Tunisia has slowed to a trickle.
Ten of thousands of refugees were streaming into Libya's western neighbor just a few days ago, but that number has dwindled to perhaps 2,000 said Tim Irwin, spokesperson for the United Nations High Commissioner for Refugees.
"Something has changed, we don't know what," said Irwin on CTV News Channel on Sunday. "We're seeing so few people coming across the border from what we'd seen in the last couple of days."
"There's cause for concern but we're not sure exactly what it is," he added.
Those who do make it over the border say they encountered roadblocks and had their cameras and cellphones confiscated.
Others close to the situation say there is a "more visible security presence" on the Libyan side of the border, added Irwin.
Some 95,000 refugees have crossed into Tunisia since the uprising in Libya began last month, as rebels took arms against the 41-year rule of Libyan leader Moammar Gadhafi. Another 75,000 have gone west into Egypt.
All three countries have seen sudden uprisings in the last two months, though Libya's is by far the bloodiest and appears to be on the verge of civil war.
The drop in the number of Libyan refugees comes amid reports from U.S. intelligence that pro-Gadhafi forces are preventing people from reaching the border. Unconfirmed reports suggest people are being held against their will in camps.
However, Irwin noted that the reduced flow of refugees into Tunisia has had one benefit: humanitarian organizations are better able to care for those who arrived earlier.
"The congestion we'd seen on the Tunisian side of the border is easing somewhat," he noted.
Photo: Bengladesh refugees who fled Libya line up for food distribution at the Choucha refugee camp, near the Tunisian border town of Ras Jdir, on March 4