Nabil Elaraby replaces Ahmed Aboul Gheit as Egyptian FM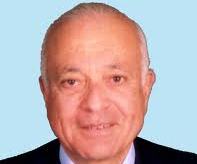 Nabil Elaraby ( or El Araby) , a former judge in the International Court of Justice, accepted the post of Egypt's foreign minister on Sunday, the state news agency said.
Judge Elaraby holds a J.S.D. (1971) and an LL.M. (1969) from New York University School of Law and a License en Droit, Faculty of Law, from Cairo University (1955).
Elaraby, who was also the permanent representative to the United Nations and has been serving as the director of the Regional Cairo Center for International Commercial Arbitration, replaces Ahmed Aboul Gheit who was minister since 2004.
He was Member of the International Law Commission of the United Nations 1994-2004, Judge at the Judicial Tribunal of the Organization of Arab Petroleum Exporting Countries in 1990 and Commissioner at the United Nations Compensation Commission in Geneva (1999–2001).
Elaraby, a partner at Zaki Hashem & Partners in Cairo, since 2008 has also been serving as a counsel of the Sudanese government in the "Abyei Boundary" Arbitration between the Government of Sudan and the Sudanese People's Revolutionary Movement.
Reuters