Hariri in Riyadh for talks with Saudi officials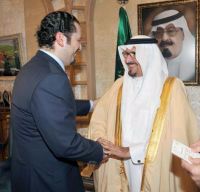 Outgoing Prime Minister Saad Hariri met Sunday with Saudi Crown Prince Sultan Bin Abdel Aziz at his office in Riyadh, according to a statement issued by Hariri's office on Sunday.
"Hariri and Prince Sultan discussed bilateral relations and latest developments in the Arab world and the region," the statement added.
Hariri arrived on Friday to Saudi Arabia to meet with Saudi King Abdullah bin Abdel Aziz after his three months trip for back surgery.
Earlier today Hariri also met with Prince Naif bin Abdel Aziz, who is the Second Deputy Prime Minister and long time Minister of Interior of Saudi Arabia.
The Iranian- and Syrian-backed Hezbollah brought down PM Hariri's government on January 12 over the Special Tribunal for Lebanon's imminent indictment which is widely expected to implicate Hezbollah members in the assassination of former PM Rafik Hariri in 2005
Nagib Mikati, who was backed by Hezbollah and its March 8 allies including MP Walid Jumblatt and Mohammad Safadi, was appointed on January 25 by president Michel Suleiman as PM-designate to form and head the next cabinet , giving Hezbollah and its allies increased leverage in the country and provoking widespread protest.
Mikati, Jumblatt, Safadi and their blocs were all elected on March 14 electoral lists during the 2009 parliamentary elections
According to local reports Mikati is facing many obstacles in forming the government
1- The number one obstacle is reportedly Free Patriotic Movement's leader MP Michel Aoun due to his continued insistence of acquiring the interior ministry portfolio from President Michel Suleiman.
2- the issue of a blocking minority and who should get it . Some support granting it to Mikati and Suleiman, while others are demanding that it should be granted to Mikati, Suleiman, and Progressive Socialist Party leader MP Walid Jumblat.
3-Mikati's insisting on naming the individuals who will man the various ministries