Sfeir honored during a ceremony and mass in Bkirki, pictures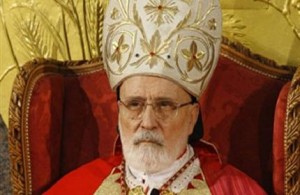 "I ask forgiveness from those who thought that I offended them in any way," Outgoing Maronite Patriarch Nasrallah Sfeir said during a ceremony and mass in Bkirki on Saturday in his honor.
All my calls were aimed at strengthening cooperation between the Lebanese people, Sfeir added.
Sfeir asked God to take care of Lebanon and thanked all those who attended
President Michel Suleiman, Speaker Nabih Berri and PM -designate Najib Miqati attended the ceremony. Outgoing PM Saad Hariri did not attend because he is in Riyadh , Saudi Arabia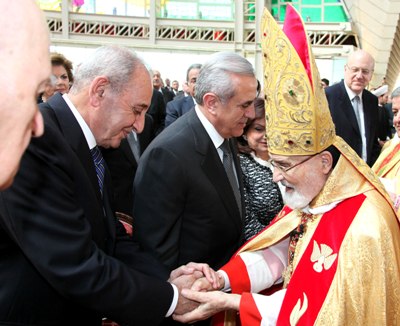 Cardinal Leonardo Sandri represented Pope Benedict XVI at the event held on the occasion of Sfeir's 25-year tenure. Ministers, MPs and other officials were also present.
The Papal ambassador to Lebanon, Gabriel Caccia, said during the mass that Lebanon won't be able to become strong and a mediator for peace in the world without the Christian presence in the country.
He also lauded Sfeir for his role in consolidating national identity in Lebanon.
Politics as usual
Caretaker Ministers Fadi Abboud, a member of the Free patriotic Movement which is headed by MP Michel Aoun and Youssef Saadeh, a member of the Marada Movement which is headed by MP Suleiman Franjieh left the mass as soon as it started over the alleged adoption of wrong seating protocol at the church. Caretaker Minister Gebran Bassil ( Aoun's son-in-law) did not even attend the mass.
New Patriarch
The outgoing patriarch prayed during the mass for bishops to make the right choice in the election of the new leader of the Maronite church.
Sfeir, 90 had asked several months ago to be relieved of his post because of his age. Sfeir's resignation was accepted last Saturday during a meeting with the pope on the sidelines of a visit to the Vatican to unveil a statue of the Maronite Church founder Saint Maroun on the outer wall of Saint Peter's Basilica.
According to local reports , the 39 Christian Maronite bishops will gather on March 9 to elect the new patriarch during a spiritual conclave which will be held at Bkirki . The spiritual conclave lasts 3 days and will be followed by deliberations . The name of the new patriarch will reportedly be announced 15 days later.
"Maronite Patriarch Nasrallah Boutros Sfeir has the wisdom and courage that his position requires," Labor Minister Boutros Harb said last Tuesday after meeting the patriarch in Bkirki. .
"Sfeir will be recognized as one of the great patriarchs throughout the history of the Maronite sect, thanks to the national role he played," Harb said
In a statement released by the Vatican last Saturday, Pope Benedict said that Sfeir's decision was an "expression of great humility."
"You have decided to step down from your post as the head of the Maronite church under very particular circumstances. Now I receive your free and magnanimous decision, which is an expression of great humility and deep detachment," the statement said.
Sfeir denied last Sunday that he had a preferred candidate to assume the post. "I did not nominate anyone to the post," he said.
Asked whether he had advice to convey to the bishop likely to assume the post, Sfeir said he would share some thoughts with the new patriarch once the latter is elected.
Even though he is not a politician, Sfeir is not afraid of speaking out for the cause of justice. This is why he is feared by some, resented by some, loved and respected by many who know him well.
While the Outgoing prime minister Saad Hariri who is a Muslim Sunni calls Sfeir "The conscious of Lebanon." Christian leaders like Free Patriotic Movement chief MP Michel Aoun and Marada Movement leader Suleiman Franjieh are very critical of Sfeir for being so outspoken against their allies: The Hezbollah militant group and the Syrian regime.
Sfeir who is Lebanon's top Christian spiritual leader predicted last December that Hezbollah is planning to seize power in Lebanon.
During an interview on Dec 21 with MTV he said : "The way Hezbollah is acting gives the impression that they might seize power in Lebanon."
Less than a month later Hariri's government collapsed
The Iranian- and Syrian-backed Hezbollah brought down PM Saad Hariri's government on January 12 over the Special Tribunal for Lebanon's imminent indictment which is widely expected to implicate Hezbollah members in the assassination of former PM Rafik Hariri in 2005 .
Sfeir said during the same December MTV interview : "We hope no Lebanese were involved in Hariri's murder , but if those involved are Lebanese, every criminal must face punishment."
Mikati, who was backed by Hezbollah and its March 8 allies including MP Walid Jumblatt and Mohammad Safadi, was appointed on January 25 by president Michel Suleiman as PM-designate to form and head the next cabinet , giving Hezbollah and its allies increased leverage in the country and provoking widespread protest.
Mikati, Jumblatt, Safadi and their blocs were elected on March 14 electoral lists during the 2009 parliamentary elections