China state media warn against protest calls in capital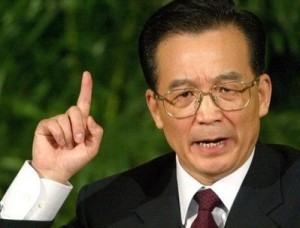 China told its people on Saturday not to heed calls to emulate protests that have rocked the Middle East, warning that any threats to Communist Party-led stability could bring "disaster."
This was the government's most public warning yet against calls for Middle East-inspired pro-democracy protests that have spread from an overseas Chinese website, triggering tighter censorship, intense security in Beijing and new restrictions on foreign reporters.
The commentary in the Beijing Daily newspaper, a Communist Party mouthpiece, signaled that China's security crackdown would not let up.
"Everyone knows that stability is a blessing and chaos is a calamity," said the newspaper, which is the mouthpiece of the Communist Party administration for China's capital.
The warning came on the same day as the opening of China's annual parliament in the capital, where Premier Wen Jiabao warned that inflation could corrode social stability.
Police smothered any weekend protests before they had a chance of forming, and some foreign reporters who went to the scene of the would-be gathering on the Wangfujing shopping street in downtown Beijing were beaten up.
But the commentary told citizens to beware. Hard-won order was at stake, it said.
Uprisings across the Middle East have toppled authoritarian governments in Tunisia and Egypt and now threaten to Muammar Gaddafi, the long-time strongman of Libya.
"This turmoil has brought a massive calamity to the people of these countries," said the newspaper in the commentary which was widely repeated on many Chinese state media websites.
"It is worth noting that at home and abroad some people with ulterior motives are trying to draw this chaos into China. They have used the Internet to incite illegal gatherings," it said.
"There are always some people at home and abroad who want to exploit the problems existing in our development to provoke trouble," it added, urging citizens to "conscientiously protect harmony and stability."
The protest calls in China have little chance of taking off.
Beijing has mobilised 739,000 police officers, officials, security guards and residents recruited into local patrols to guard against mishaps during the parliament, reported the official China News Service.
Police have rounded up dozens of dissidents since online messages from abroad urged pro-democracy gatherings inspired by the "Jasmine Revolution" in Tunisia. Internet censorship also means that few Chinese residents are aware of the protest calls.
Chinese police have threatened to revoke the visas of dozens of foreign journalists if they continue "illegal" reporting from sites where overseas websites have called for anti-government demonstrations.
"Those people intent on concocting and finding Middle East-style news in China will find their plans come to nothing," said the Beijing Daily commentary.
Photo: Chinese Premier, Wen Jiabao. Chinese authorities have reacted nervously to online calls for nationwide protests, rounding up more than 100 known dissidents and rights advocates while blocking references to the rallies on websites and search engines, rights groups and activists have said