Libya prevents refugees from leaving as fighting rages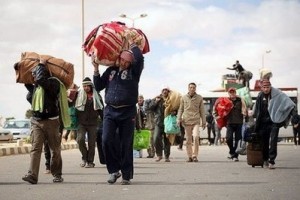 Satellite photographs indicate that Libya is slowing the exodus of migrant workers west to Tunisia, stopping them just shy of the border where the flow of more than 90,000 refugees over the past 10 days has suddenly begun to dry up.
There has been an "artificial stop where the numbers have abruptly gone down 80 percent and no one knows why," said Andrew Mitchell, the British Secretary of State for International Development, as he visited a transit camp at this remote Tunisia frontier Friday.
"Two days ago 10,000 came across the border, and yesterday 1,863 came across the border," said Mr. Mitchell, noting that satellite data now being analyzed showed numbers of people at a point 10 miles from the border inside Libya. "There's been a change, and it doesn't feel right. It's too abrupt for it to be a natural change."
Tunisian military and police officers spoke to many who had crossed the border, but their accounts were "so contradictory" that they were unable to ascertain what was happening inside Libya.
"In humanitarian terms, that makes it extremely difficult to plan," said Mitchell. "We need to plan in a way that we can scale up rapidly for a humanitarian situation."
A human column of Bangladeshis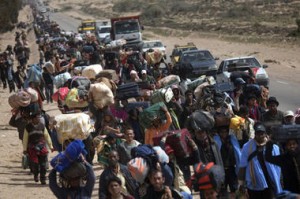 The reason for the stoppage may have been to minimize the appearance of chaos in Libya, where antiregime rebels have taken control of the eastern third of the country in their bid to unseat Libyan leader Muammar Qaddafi. Qaddafi's forces clashed with armed rebels across the country today, including in the oil town of Ras Lanuf and in Zawiya, which lies just west of Tripoli. In the capital itself, Qaddafi forces reportedly opened fire on protesters.
At the Tunisia-Libya border, there are heavily armed forces, says Alan Manski, an emergency coordinator for the International Rescue Committee.
"It looks like Qaddafi has a plan to make it not look like an exodus…. Obviously we will see a lot more leaving [Libya] if they are allowed to," said Mr. Manski during a visit to the transit camp. "I can't believe the other side are being serviced with food and water."
The United Nations High Commissioner for Refugees (UNHCR) said in a statement: "If military control of the Libyan border reduces, we anticipate a huge exodus could resume."
UNHCR and the International Organization for Migration (IOM) had planned on Friday to bring 5,000 Bangladeshis from the immediate border area – where they have been staying in squalid conditions for days – to a newly constructed transit camp some five miles away.
Instead, they walked, carrying all their possessions in a human column that stretched for more than mile.
Senior UNHCR official Ayman Gharaibeh said his organization could increase the scale of their operations to accommodate 20,000. "But we are trying to make sure this becomes only a relay point," he said, as he walked toward the rows of newly erected white tents. "We always get cold feet when we see tents climbing up a hill in regiments. It's a complex logistical challenge with buses and planes."
Libya "no good"
The UNHCR and IOM hired 35 buses to ferry migrant workers fleeing Libya from the border to this transit camp, and then onward to airports and sea ports in Tunisia. Amid cries for logistical help, the European Commission on Thursday announced a 10-fold increase in aid to 30 million euros ($42 million) for refugees fleeing to both Tunisia and Egypt.
But that help did not come soon enough for thousands of Bangladeshis, who midday Friday took to the road. Workers abandoned by their poor country and the companies they worked for in Libya carried bundles of blankets on their heads and dragged wheeled suitcases alongside the road from the border.
"Libya no good!" chanted some of the refugees as they marched the parched hot road to the edge of the transit camp. Tunisian soldiers sought to keep them organized and even sent trucks to carry some heavier bags.
But the scene was one of a determined mass movement of people.
"Sir, this is the human engine," explained one passing Bangladeshi.
Another put down his two bags for a rest while the column continued to move, step by step.
"Five kilometers come here, by legs," said Mehedi Hasan, a site engineer for CKG – according to his identity card – who said he had not been paid in a year. "Too much problem! I am man, not machine."
Echoing the complaints of many other migrants who made it to the border to escape, he said Libyan police and soldiers robbed him of two mobile phones, cash, and all other valuables at numerous checkpoints.
Donated food, diapers
For those who made it to this transit camp on Friday, there were piles of boxes of donated food, loaves of bread and even diapers, all being watched over by the Tunisian military and handed out with their help.
A colonel who gave his first name as Moassin said more canvas tents were expected but had not yet arrived, to explain why supplies remained exposed to the sun. Tents were being collected from all across Tunisia, he said, but "storage" was a problem.
"The extraordinary generosity and compassion of the Tunisian people who live in this area is humbling," said Mitchell, the British secretary. "The number of vehicles that have driven up with food and water and clothes for people who are caught in that area by the border is extraordinary."
At the transit camp, the British minister noted, the UNHCR "have had to tell people not to bring any more food, otherwise it won't be used and will rot."
Top photo: People fleeing Libya walk with their belongings toward the Egyptian border city of Sallum. Two US humanitarian teams are being sent to Libya's borders with Egypt and Tunisia to provide aid to refugees fleeing the country.