Interpol issues alert for Gadhafi, family members,associates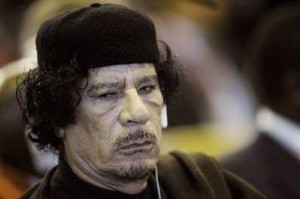 Interpol says it has issued an international alert for Moammar Gadhafi and 15 other family members and close associates in a move aimed at helping enforce international sanctions against the Libyan strongman and his regime.
The international police organization issues the orange notice when an act or event poses a risk to public safety. The alert is sent to Interpol's 188 members around the world, providing law enforcement and border police information on the targeted individuals that can be used to block their movements and freeze their assets.
Interpol said Friday that Gadhafi and the other targeted individuals "have been identified as being involved in or complicit in planning attacks, including aerial bombardments, on civilian populations."