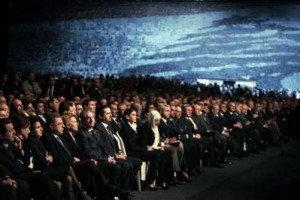 March 14 alliance MPs met at the Bristol Hotel in Beirut on Sunday evening and issued a statement afterward announcing that they reject participation in Prime Minister-designate Najib Mikati's cabinet.
"The way the national unity cabinet was toppled and the atmospheres of intimidation … created by the March 8 camp during the process of parliamentary consultations and designation (of Miqati) have confirmed our doubts that the March 8 camp is pressing on with its coup," March 14 said in its statement.
The March 14 forces "reject to legitimize the coup … and reject to turn into observers who cannot prevent violations," the coalition said in a statement recited by ex-PM Fouad Saniora after an extraordinary meeting for its 60 MPs at the Bristol Hotel in Beirut.
The March 8 coalition is "drowning the cabinet formation with crippling conditions […] that violate constitutional principles and norms," according to the statement read live on television by former Siniora.
Hezbollah and its allies have abrogated the Doha Agreement and are pursuing their "military coup" begun on May 7, 2008, the statement said.
March 14's initial positive approach to the cabinet formation was dependent on March 8's ability to abide by commitments and on the "ability of the president and premier-designate to commit to basic principles," the statement added.
These principles include "preserving the political regime, establishing the role of legitimate [state] authority in exclusively possessing weapons and commanding their use in confronting any Israeli aggression against Lebanon, and restoring the strategic decision [on war and peace with Israel] to the state."
March 14 forces informed Mikati of these principles and asked him to commit to them in order to pave the way for March 14 to interact positively with his cabinet, the statement said.
"However, instead of interaction with these principles, the country is witnessing practices by March 8 that violate national unity and the powers of the premier-designate and president."
"[March 14] forces announce that they reject participation in the proposed cabinet because they refuse to legitimize the coup, and refuse to be false witnesses unable to stop deviations and violations."
Mikati was appointed to the premiership on January 25 with March 8's backing and has called on all sides to join his cabinet.
His appointment followed the January 12 collapse of Hariri's unity government due to a long-running controversy over the Special Tribunal for Lebanon.
Although March 14 leaders announced on February 14 that they would enter the opposition, other March 14 figures have continued contacts with Mikati regarding cabinet participation.
Hizbullah-backed Mikati was then appointed to form a new government, which Hariri's alliance has refused to join and has labeled "Hezbollah's government".
Hariri had refused to join Miqati's government without guarantees that his cabinet will see the tribunal through.