As unrest ripples across the Middle East, few artists' work is more relevant than Mona Hatoum.
Born in Beirut to Palestinian parents, Hatoum has made constant reference to the region, and these latest installations continue this preoccupation, albeit with mixed results.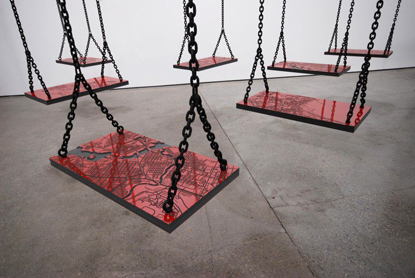 In Suspended (2011), Hatoum hangs 35 fibreboard swings from steel chains attached to the ceiling.
Each is covered in red laminate, into which is etched the street plan of a city from across the globe. Hatoum aims to make a point about urban migration with these hanging islands, which are dislocated and impersonal, coldly hostile. But rather than prompting the tension she intends, the work feels strangely muted.
The visceral power of Hatoum's best work is abundant, however, in Bunker (2011). An apocalyptic, wartorn and desolate model metropolis, it is composed of hollow mild steel tubes which Hatoum has attacked with a blowtorch so that they are riven with jagged fissures and holes.
These constructions are based on buildings in Beirut, like the old Holiday Inn, the site of a 1975 battle in the Lebanese Civil War. Hatoum points to the discrepancy between the utopian ideals of the modernist architecture the Holiday Inn building exemplifies and dystopian reality.
And by using the uniform units of steel in different configurations, Hatoum also offers a critique of Minimalist art, whose reduced, cool aesthetic eschewed meaning to focus on materials and space. Hatoum's savage attacks on the blocks suggest the impotence of a purely abstract language in a world which continues to tear itself apart.
Until April 2 at White Cube in London (www.whitecube.com)
This error message is only visible to WordPress admins
Error: No connected account.
Please go to the Instagram Feed settings page to connect an account.