Shiite council rejects Hariri Tribunal, deems it unconstitutional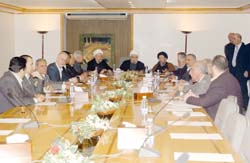 The international tribunal investigating the 2005 slaying of former Lebanese Prime Minister Rafik Hariri is no longer valid, Shiite authorities said in Lebanon.
"The (Shiite) council calls (on the Lebanese government) to reject any cooperation with it because it has bypassed the state, the constitution and the people," the Shiite elite said in a statement.
The Special Tribunal for Lebanon in January delivered a sealed indictment to tribunal judges. The indictment is widely expected to point the finger at Hezbollah, which led opposition leaders in a January walkout that brought down the government of Saad Hariri, the son of Rafik Hariri.
Members of the Shiite elite in Lebanon said the STL has lost constitutional legitimacy. The tribunal has been turned into a political tool rather than a venue for justice, they said.
Washington and the United Nations have urged Prime Minister-designate Najib Mikati to ensure that any new government honors its international obligations.
Mikati, a former ally of Saad Hariri, hasn't been able to form a unity government because of disputes between the Western-backed March 14 coalition and the March 8 alliance, which includes Hezbollah.