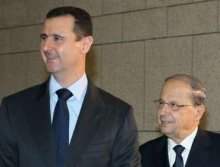 Syria has moved from the stage of urging premier-designate Najib Mikati to speed up the process of cabinet formation to the stage of actively facilitating his mission, the Central News Agency reported Monday.
The Syrian leadership has started trying to resolve the dispute over shares in the new cabinet "between its new and old allies, and between President Michel Suleiman and Free Patriotic Movement leader MP Michel Aoun," Damascus visitors told the agency.
"Damascus will try to find a solution to the dispute over the interior portfolio," CNA quoted Damascus visitors as saying.
The visitors attributed Syria's new approach to its "decision to confront the international community."
Damascus has asked its friends, especially Speaker Nabih Berri, to seek solutions that would preserve its good ties with both Suleiman and Aoun, the sources added.
Berri dispatched his political aide, MP Ali Hasan Khalil, to Rabiyeh in a bid to "soften Aoun's stance and curb his demands, whether regarding the interior portfolio or the number of portfolios he is seeking to obtain," said Damascus visitors.
"Regardless of ongoing speculation on when would the new cabinet see light, the process of the distribution of portfolios or the names of the new ministers, Damascus visitors believe that the new cabinet line-up might start materializing in early March – after the return of the (Lebanese) president from the Vatican and Kuwait," CNA said.
Progressive Socialist Party leader Walid Jumblat unveiled on Monday that he held talks with the assistant of Syrian President Bashar Assad's deputy, Maj. Gen. Mohammed Nasif, in Damascus last week. Jumblat told As Safir newspaper that he discussed with Nasif on Wednesday the situation in Lebanon and the Arab world. He said, however, that they didn't discuss the government formation process in detail.
Naharnet