Regional jitters as Bahrain faces flashpoint funerals
Parts of the Middle East and Arab North Africa could see renewed displays of public anger toward their governments on Friday as protesters in Bahrain bury four people killed when police broke up an activist camp.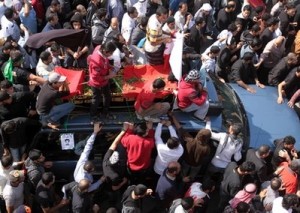 Crowds have taken to the streets in Libya, Yemen, Iran and Bahrain in recent days, demanding at the very least more representation and at the most the overthrow of governments.
The protests, inspired by popular revolts in Tunisia and Egypt that drove the veteran leaders of both countries from office, has forced the authorities to react, sometimes with fatal consequences.
In Bahrain, troops in armored vehicles took control of the capital before days on Thursday after police firing buckshot and teargas pushed out hundreds of protesters camped out in central Pearl Square.
It was the worst violence in the Saudi-allied Gulf island kingdom in decades and a sign of the nervousness felt by Bahrain's Sunni al-Khalifa royal family, long aware of simmering discontent among the country's majority Shi'ites.
The sectarian aspect of the violence in Bahrain, home to the U.S. Navy's Fifth Fleet, could fuel discontent among the Shi'ite minority in neighboring Saudi Arabia, the world's biggest oil exporter.
The unrest in the region helped push Brent crude prices to a 28-month high of $104 a barrel on Thursday and were a factor in gold prices extending early gains to five-week highs.
The funerals of four people killed in the raid in Manama were expected to be held on Friday and could well serve as a rallying point for protesters. One protester was killed this week while attending the funeral of an activist.
ARMY WARNING
The army in Bahrain, a country of 1.3 million people of whom 600,000 are native Bahrainis, has issued a warning to people to stay away from the center of the capital and said it would do whatever was needed to maintain security.
Protesters in the region have been following events in neighboring countries, many via social networking sites like Twitter and Facebook and will again be watching for signs whether Friday, a day of rest for many Muslims, will herald fresh demonstrations. In Egypt, demonstrations often heated up on Friday after afternoon prayers.
On Thursday in Yemen, four protesters were killed in the port of Aden in demonstrations that began seven days ago and which showed no signs of abating.
Demonstrators want to be rid of President Ali Abdullah Saleh, who has ruled for 32 years but is seen by Washington as a key ally in its fight against al Qaeda militants based in Yemen.
In Libya, where there have been reports of five deaths in a rare show of defiance against leader Muammar Gaddafi, it was unclear whether protesters would seek to push on from Thursday's "day of rage." The protest, which secured backing in the eastern city of Benghazi, had little or no signs of support in the capital Tripoli, where a pro-Gaddafi crowd held a rally.
In Iraq on Thursday, two people were killed and 47 were injured when police opened fire on anti-government protesters in the northern city of Sulaimaniya. Reuters