Iran arrests opposition leader Mousavi ahead of rally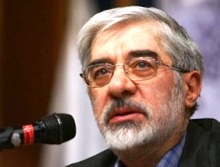 Iranian police have placed opposition leader Mir Hossein Mousavi under house arrest, his official website says.
It says the move is intended to block him from attending a rally in Tehran in support of the protests in Egypt.
It is the latest in a series of arrests of people linked to Mr Mousavi and fellow opposition leader Mehdi Karroubi, also under house arrest.
Several opposition groups have vowed to take part in the protest, although officials have banned the gathering.
Although Iran's establishment officially supports the Egyptian popular protests, it says the rallies are a "political move" by the two opposition leaders.
The authorities have stepped up security in the capital, blocked access to internet sites, and started jamming satellite news channels.
Crane protest
Activist being pulled off the crane Emergency responders later pulled him off the crane
Analysts say Tehran is trying to stop opposition groups from using the Egypt rally as a means to re-ignite anti-government protests – last seen in 2009 – against the disputed re-election of President Mahmoud Ahmadinejad.
In an unusual move, a man climbed a tall crane in central Tehran on Monday morning and began inviting people to attend today's rally, the BBC's Mohsen Asgari reports from the Iranian capital.
He threatened to kill himself if officials tried to approach him, but was later arrested by the police, our correspondent says. The activist was earlier mistaken for a young woman.
Also on Monday morning, Iranian police vans blocked the lane leading to the house of Mr Mousavi and disconnected his mobile phones and land lines, his website Kaleme.com said.
Last week, almost a dozen people close to Mr Mousavi were detained. BBC