Mubarak moved his assets into untraceable accounts overseas, report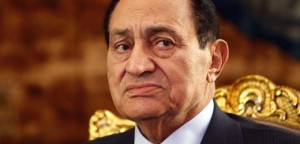 The former Egyptian president is accused of amassing a fortune of more than £3 ($4.8 ) billion – although some suggest it could be as much as £40( $64) billion – during his 30 years in power. It is claimed his wealth was tied up in foreign banks, investments, bullion and properties in London, New York, Paris and Beverly Hills.
In the knowledge his downfall was imminent, Mr Mubarak is understood to have attempted to place his assets out of reach of potential investigators.
On Friday night Swiss authorities announced they were freezing any assets Mubarak and his family may hold in the country's banks while pressure was growing for the UK to do the same. Mr Mubarak has strong connections to London and it is thought many millions of pounds are stashed in the UK.
But a senior Western intelligence source claimed that Mubarak had begun moving his fortune in recent weeks.
"We're aware of some urgent conversations within the Mubarak family about how to save these assets," said the source, "And we think their financial advisers have moved some of the money around. If he had real money in Zurich, it may be gone by now."
The revelation came as the ruling military council, which took power as Mr Mubarak stepped down on Friday, confirmed its pledge eventually to hand power to an elected civilian government, although it did not set a date.
It also reassured allies that Egypt will abide by its peace treaty with Israel, as it outlined the first cautious steps in a promised transition to elections and "to build a democratic free nation".
The military council's spokesman, Gen Mohsen el-Fangari, appeared in front of a row of Egyptian military and national flags as he read a statement, proclaiming respect for the rule of law – a sign that the current system of emergency law may be ended.
But demands were growing among protesters in Cairo last night for Mr Mubarak to be put on trial for corruption.
The former president was at his family villa in the resort town of Sharm El-Sheikh. There were unconfirmed reports that he was effectively under house arrest, as the focus of protesters moved from toppling the hated ruler to seizing his fortune, although the army's ruling council which is in charge of the country pending its transition to democracy said Mr Mubarak was beingn treated with due respect.
During the protests last week, former deputy foreign minister Ibrahim Yousri and 20 lawyers petitioned Abdel Meguid Mahmoud, Egypt's prosecutor general, to put Mr Mubarak and his family on trial for stealing state wealth.
Crowds in Tahrir Square were yesterday hotly debating what to do with the disgraced former president, as protesters assembled themselves into clean-up squads to remove rubbish and cranes took away wrecked vehicles.
Manar Louay, 16, a student, said: "I don't think they should put him on trial – he did keep our country out of wars. But they should take his money, it is not his."
Mohamed El Beblawy, 60, a driver, said: "Not only should Mubarak be prosecuted, all the other thieves should be as well."
Fatma Samy Ahmed, 50, who was part of the clean-up operation, said: "He should be executed like Saddam Hussein. Half of the population lived in poverty, while Mubarak and those around him lived in heaven."
The intelligence source suggested that 82-year-old Mubarak may have learnt the lesson of his fellow dictator Zine El Abidine Ben Ali, the former president of Tunisia, who was forced with his family into a hasty exile in Saudi Arabia while Swiss authorities froze the family's bank accounts.
A US official told The Sunday Telegraph: "There's no doubt that there will have been some frantic financial activity behind the scenes. They can lose the homes and some of the bank accounts, but they will have wanted to get the gold bars and other investments to safe quarters."
The Mubaraks are understood to have wanted to shift assets to Gulf states where they have considerable investments already – and, crucially, friendly relations. The United Arab Emirates and Saudi Arabia have frequently been mentioned as likely final destinations for Mr Mubarak and possibly his family.
The UK Treasury said it would have the power to seize Mubarak's British assets if Egypt made a formal request – and no order had yet been made.
But Lord Malloch-Brown, a former Labour foreign minister and former Deputy Secretary-General of the United Nations, told The Sunday Telegraph: "When people are forced out of office, if they have money way beyond what they should have earned, then a country like Britain should freeze those assets pending a court action by the new government.
"Given his and his family's strong links to the UK, it is reasonable to assume at least some of his assets are here."
Reports emanating from Egypt claim that Mubarak had accounts with the Swiss bank UBS as well as with HBOS, now part of Lloyds Banking Group, which is 41 per cent owned by the British Government. But it is understood that Lloyds bank officials have so far found no evidence Mubarak had secret accounts with them.
Quite how much Mubarak has stashed away – and where he has hidden that fortune – in the past 30 years is open to speculation. His 69-year-old wife Suzanne Mubarak – known in some circles as the Marie Antoinette of Egypt – is half-Welsh while it is claimed the couple's two sons Gamal and Alaa may even have British passports.
Intelligence sources indicate that the Mubarak fortune may be most easily traced via the business dealings of Gamal Mubarak, 47.
He once lived in a six-storey house in Belgravia in central London and worked in banking before setting up an investment and consulting firm in London. He resigned as a director of the company 10 years ago.
The president made his two sons the "go to" men for any companies that sought to do business in Egypt.
Kefaya, an opposition coalition that emerged before the 2005 elections to oppose the then president and his plans to transfer power to Gamal, released a lengthy investigation into nepotism, corruption and abuse of power by the ex-president and his two sons.
It said it was routine for businesses to be required to hand a cut – between 20 to 50 per cent – to Gamal or Alaa simply to set up shop. Favoured entrepreneurs who worked with the brothers were given virtual monopolies in return.
Arwa Hassan, a Middle East specialist for the anti-corruption group Transparency International, said Gamal appeared to be at the centre of the Mubarak family's finances. Miss Hassan said: "It was really common for Gamal Mubarak to approach a successful business and say, make me a partner in your business. I've heard this from various sources. I don't think it was a secret."
Dealing with the former president will present a major challenge to Egypt's first real democratic government, which is expected to be formed after elections.
On Saturday night the army was in charge, hugely supported by the people after promising to hand over power as soon as possible. The army was quick to promise to honour all existing treaties including the crucial Camp David Accord with Israel.
Most Egyptians spent yesterday celebrating their new freedom.
Hundreds of thousands filed through Tahrir Square, smiling soldiers let children climb onto, and even into, their tanks, and a sea of Egyptian flags waved over the heads of the crowd.
Some protesters promised to resume protests if the army does not show clear signs of allowing a transition to civilian rule. The people of Cairo were waking up to a very different world. After weeks of paralysis the economy is in chaos; expectations for the future have been raised dangerously high; and the revolution was so rapid that there is no leadership to offer a vision of a secure political future.
But the mood on Cairo's streets was euphorically positive. Dina Sadek, 21, a student protester, said: "A month ago people were too scared to criticise him in public. Now we have won our freedom and we are proud to be Egyptian."
Hundreds of pro-democracy supporters were arrested in Algeria, as hopes of freedom swept the Arab world.