Hezbollah official: Balance of power shifted in Lebanon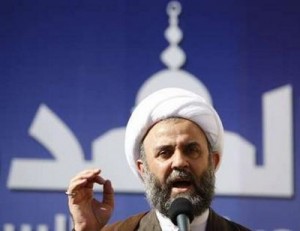 During the ceremony commemorating marking the third anniversary of the assassination of Hezbollah military commander Imad Fayez Mughniyeh's , Hezbollah official Nabil Qaouq said: The balance of power today has changed as the Resistance now enjoys a popular and parliamentary majority.
Commenting on the formation of the new cabinet he said:
"The new government in Lebanon should help remove the country from the American minefield."
Mughniyeh was killed on February 12, 2008 by a car bomb, planted inside the driver's headrest, around 11:00 pm local time in the Kfar Suseh neighborhood of Damascus, Syria. As Mughniyah reportedly passed the car on foot, the bomb was detonated. Mughniyeh's body parts were later found scattered across the street.
Mughniyeh was included in the European Union's list of wanted terrorists and had a US$5 million bounty on the FBI Most Wanted Terrorists list.
The Iranian- and Syrian-backed Hezbollah brought down PM Saad Hariri's government on January 12 over the Special Tribunal for Lebanon's ( STL) indictment which is widely expected to implicate Hezbollah members in the assassination of former PM Rafik Hariri in 2005 .
Nagib Mikati, who was backed by Hezbollah and its March 8 allies including Jumblatt and Mohammad Safadi, was appointed by president Michel Suleiman as PM-designate to form and head the next cabinet , giving Hezbollah and its allies increased leverage in the country and provoking widespread protests.
Jumblatt who, along with his parliamentary bloc had the decisive vote in the naming of PM designate was reportedly subjected to repeated threats by Hezbollah.