Obama urges Egyptian army to ensure transition to 'genuine democracy'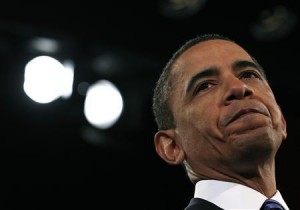 U.S. President Barack Obama said Friday the resignation of Egyptian President Hosni Mubarak reflected the will of the Egyptian people and called on the country's powerful military to ensure a transition to "genuine democracy."
Obama spoke after Mubarak handed over power to the Egyptian army after an 18-day popular uprising, with Washington now facing deep uncertainty and huge challenges in a potentially volatile power shift in Cairo that could have repercussions for U.S. policy across the Middle East.
"The people of Egypt have spoken," Obama told reporters. "Egyptians have made it clear that nothing less than genuine democracy will carry the day."
He warned that this was not the end, but just the beginning of Egypt's transition to democracy, saying, "There will be many difficult days ahead and many questions remain unanswered."
Though the U.S. role in Mubarak's resignation remained unclear, Mohamed Hussein Tantawi, head of the military council that took control Friday, spoke with U.S. Defense Secretary Robert Gates by phone five times during the wave of mass protests, including as late as Thursday evening.
Washington walked a fine line since the demonstrations erupted, endorsing the democratic aspirations of the protesters but trying not to openly abandon a long-time ally or encourage upheaval that could spill over into other parts of the oil-rich region.
Obama, who has pressed for an orderly process toward democracy, now confronts the challenge of helping broad political reform to take root in the Arab world's most populous country while keeping Islamists from ending up with enough power to undermine U.S. interests in the region.
He will face the test of keeping the power shift in Cairo — marking the end of Mubarak's 30-year authoritarian rule — from unnerving Middle East allies like Saudi Arabia and Israel or emboldening foes like Iran and al Qaeda.
That may explain why, even as Obama praised Egyptian protesters for forcing political change in their country, he was careful to avoid saying anything that might be seen as promoting further unrest elsewhere in the Arab world.
TIES WITH EGYPT'S MILITARY
But Obama made clear the importance Washington places on its close ties with the Egyptian military, which relies on $1.3 billion in annual U.S. aid and is seen as the key to keeping the situation from descending into chaos.
"The military has served patriotically and responsibly as a caretaker to the state and will now have to ensure a transition that is credible in the eyes of the Egyptian people," Obama said.
Pentagon officials have been tight-lipped about the talks between Tantawi and Gates though the U.S. defense chief has praised Egypt's army as a stabilizing force during the unrest.
While viewing Tantawi as an ally committed to avoiding another war with Israel, in private some U.S. officials have depicted him as resistant to reform, according to a 2008 State Department cable released by the WikiLeaks website.
Mubarak's exit came a day after Obama seemed to rebuke the Egyptian leader for not going far enough in a televised speech in which he ceded some powers to his vice president but defiantly insisted he would stay in office until presidential elections scheduled for September.
After Obama's show of impatience, it was unclear whether U.S. officials, who have had constant behind-the-scenes dealings with the Egyptian government and military, helped secure Mubarak's decision to go now.
"This is very good news for Obama given that he and his administration so publicly staked out a position that change should happen now. But it is only the start of a process," said Brian Katulis, Middle East expert at the Center for American Progress in Washington. "Now the real work has to begin."
Obama's cautious approach has been based on Egypt's strategic importance: a rare Arab state no longer hostile to Israel, the guardian of the Suez Canal linking Europe and Asia and a major force against militant Islam in the Middle East.
Obama launched his outreach to the Muslim world with a speech in Cairo in 2009 but was then low-key about U.S. concerns over human rights. The United States is now mindful that it can no longer be seen as backing autocratic Arab rulers just for the sake of stability in the region.
But Washington will also want to reassure friends like Saudi Arabia's rulers, who control vital oil supplies and may be unsettled by popular discontent in Yemen and Jordan, inspired by uprisings in Egypt and Tunisia.
In an apparent effort to calm Israeli concerns, White House spokesman Robert Gibbs said it was important that the next government of Egypt uphold its 1979 peace treaty with the Jewish state. Israel is worried that Egypt's future leaders might not be as committed as Mubarak was to maintaining peace.
U.S lawmakers swiftly welcomed Mubarak's exit. "It is crucial that Mubarak's departure be an orderly one and that it leads to true democracy for Egypt, including free, fair and open elections," said Senate Democratic leader Harry Reid.
Ileana Ros-Lehtinen, Republican chair of the House of Representatives Foreign Affairs Committee, pointed to concern in Washington and Israel that the Muslim Brotherhood, Egypt's biggest opposition group, might end up with greater clout.
"We must also urge the unequivocal rejection of any involvement by the Muslim Brotherhood and other extremists who may seek to exploit and hijack these events to gain power, oppress the Egyptian people, and do great harm to Egypt's relationship with the United States, Israel, and other free nations," said Ros-Lehtinen. cnews