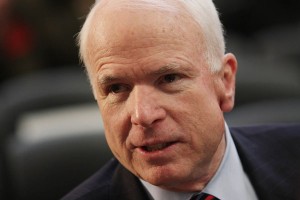 Following the speech of Egyptian president Hosni Mubarak , former US presidential candidate and current US senator John McCain said Egyptian president's decision to stay is "deeply unfortunate and troubling. " He urges him to begin "listening to and trusting his own people" in a Thursday statement.
HERE IS THE STATEMENT BY SENATOR JOHN McCAIN REGARDING THE ONGOING EVENTS IN EGYPT
"President Mubarak's announcement that he will remain in power is deeply unfortunate and troubling. The voices of the Egyptian people are growing louder and more unified, and they are not demanding partial transfers of power or minor adjustments to the current government. They are calling for President Mubarak to step down as the beginning of a meaningful and enduring transition to democracy in Egypt. I fully support the peaceful aspirations of the Egyptian people, and I am very concerned that every day their demands go unmet, the possibility only grows that this hopeful call for change could be exploited by extremist or violent elements.
"When President Mubarak alleges that foreigners and outsiders are manipulating events in Egypt, he could not be further from the truth. The Egyptian people, and they alone, are the authors of the current outcry for democratic change in Egypt. I urge President Mubarak to begin listening to and trusting his people. The stability of Egypt and the wider region increasingly depend on it."
This error message is only visible to WordPress admins
Error: No connected account.
Please go to the Instagram Feed settings page to connect an account.