Mubarak did not resign, called for dialogue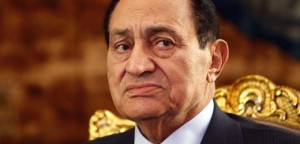 Contrary to what was expected , Egyptian President Hosni Mubarak did not say he will resign today during a TV address to the nation , but instead he said that he will not step down until a new president is selected in elections scheduled for September.
His speech today comes after his February 1 address when he promised he would not run for office again after his current term expires in September, a concession that many protesters were not satisfied with.
Mubarak refused to give in to demands of tens of thousands of anti-government protesters who took to the streets for a 17th straight day.
The dramatic announcement came after demonstrators in Cairo's main Tahrir Square had earlier danced and sang in jubilation in expectation that Mubarak would resign.
Earlier in the day, Egyptian military officials and members of the ruling party said Mr. Mubarak will "meet protesters' demands."
He told the Egyptians that he is addressing them with great concerns.. Concerns about the martyrs of the revolt and concern about the families of the victims
He said he will "never in any way accept any instructions from foreign powers. "
He reminded the Egyptians of his last speech:
– I have announced that I will not run again for the presidency.
– I have also announced that I will act responsibly to protect the constitution to ensure that the candidate chosen by the people for the presidency will win.
He told the Egyptians that he will keep his promises
He said that he has proposed a vision to get out of the current impasse which calls for "engaging in a responsible dialogue."
He vowed to continue to pursue this vision minute-by-minute in order to transform it into reality to ensure peaceful transfer of power in September
He said the dialogue has resulted in the formation of two committees, which he has been keen on including key Egyptian figures.
He said that he has instructed the speeding up of the process of investigations into last week's clashes and vowed to take necessary legal measures.
He called for amending 6 articles in the constitution.
" These amendments facilitate the conditions to run for presidency, monitoring elections, and granting special jurisdiction to the judiciary only. "He said
He told the nation that " the priority now is to restore confidence between the Egyptian people.
He said " Egypt will stand on its feet again."