Minister Harb: Our weapon is the people of Lebanon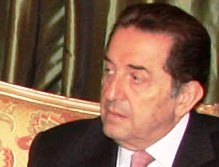 Caretaker Minister of Labour Boutros Harb said : We will cooperate with the next government if it is moderate , but if it will be provocative we will fight it ….We have our own weapon …it is the people of Lebanon and legitimacy of the state adding no one should disregard the public opinion. "
In an interview with Tele Liban TV station Harb said March 14 is still ready to sacrifice blood for f Lebanon's sovereignty , freedom and Independence . He said the weapons of the so called resistance ( Hezbollah) should only be used against Israel, but the events of May 2008 proved otherwise . This is a possible reference to the 2008 occupation of western Beirut by Hezbollah and its allies and the failed attempt to occupy Mt Lebanon
Harb said he is surprised to hear the bragging of March 8 about winning parliament majority and stressed they never won any parliament majority …they forcefully imposed the majority . This is a possible reference to the alleged threats by Hezbollah against MP Walid Jumblatt and his parliamentary bloc members .
Hezbollah brought down PM Saad Hariri's government on January 12 over the Special Tribunal for Lebanon's ( STL) indictment which is widely expected to implicate Hezbollah members in the assassination of former PM Rafik Hariri in 2005 .
Nagib Mikati, who was backed by Hezbollah and its March 8 allies including MPs Walid Jumblatt and Mohammad Safadi, was appointed by president Michel Suleiman as PM-designate to form and head the next cabinet , giving Hezbollah and its allies increased leverage in the country and provoking widespread protests.
An-Nahar newspaper reported on Wednesday that that during their meeting on Tuesday Suleiman and Mikati focused on a 24- member cabinet to be represented by centrists as well as March 8 and technocrats who together will make up the new majority.
An-Nahar quoted sources close to Mikati as saying that the government is likely to be announced at the end of the week or early next week at the latest.
According to observers Suleiman and Mikati would appoint the centrists, with Hezbollah's approval.
On Monday, former Lebanese president and current Phalange Party leader Amin Gemayel announced during a press conference that March 14 will not take part in the cabinet. He said talks with Mikati over March 14's participation in the new Cabinet reached a dead end because March 8 changed their own rules.