Egypt awaits Mubarak's address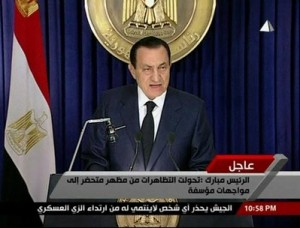 President Hosni Mubarak is set to address Egypt in the next hours after an Egyptian army general spoke to the thousands of anti-Mubarak protesters gathered in Tahrir Square in Cairo, telling them that their demands would be met.
It was unclear exactly what was unfolding, but demonstrators have said for the last 17 days that they would not give up their protest until Mubarak leaves office. The president has refused to step down despite increasing pressure from within his ruling party and from Washington and other Western powers.
Citing unnamed U.S. officials, CNN reported that Mubarak was preparing to step down after 30 years in power and that recently appointed Vice President Omar Suleiman would take his place.
CIA Director Leon Panetta, speaking Thursday before the House Select Committee on Intelligence, said he has received reports that Mubarak possibly might step down. "We have not got official word he will do that. We assume he will turn over his powers to Suleiman to direct the country," Panetta told the committee.
The Egyptian military announced that it was taking the "necessary measures to protect the nation and support the legitimate demands of the people." It was uncertain the move by the army would sweep the government from power and take control or set up another civilian government.
State television reported: "The Armed Forces convened today … to deliberate on the latest developments of the situation and decided to remain in continuous session to discuss what measures and arrangements could be taken to safeguard the homeland and its achievements, and the aspirations of the great Egyptian people. Peace, mercy and the blessings of God."
Car horns blared across the city and a roar of cheers went up from tens of thousands of protesters in Tahrir Square following the announcement.
Demonstrators chanted: "A civilian government, not a military one."
Muslim Brotherhood member Mohammad Beltaghi stood on a stage and proclaimed, "We should stay in the square even if the president steps down until they disband the parliament."
This is a "victory for us," said demonstrator Mustafa Mahmoud. "If he steps down. it's a historic day and a big victory for the people. I've been here since Saturday, the 29th of January. Our problem is not only that he leaves, but we should think of the future of Egypt and push the system to change."
The military statements came after two days of warnings by top Egyptian officials, including Suleiman, that the army might stage a coup if protests didn't stop. It was uncertain Thursday whether the army was preparing to take control or to support setting up of a new civilian government.
Mubarak came to power in 1981 with the assassination of his predecessor, Anwar Sadat, by Islamic militants. He imposed a state of emergency throughout his three-decade-rule and used his ruling party and security forces to crush political opposition, winning reelection repeatedly in balloting that was widely condemned internationally as fraud-ridden.
If Mubarak's rule ends, it would reverberate across the Middle East, where protests and unrest in recent weeks have engulfed Yemen, Jordan and Algeria. It would mark the end of an era and leave the region without one of its most prominent leaders and a trusted U.S. ally in stemming Islamic terrorism and solving the Israeli-Palestinian conflict.