Lebanon President reprimanded PM designate over cabinet details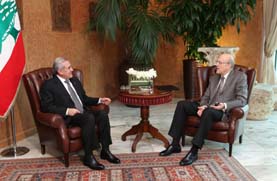 MTV reported on Wednesday that President Michel Suleiman reprimanded Prime Minister-designate Najib Mikati during their Tuesday meeting at the Baabda Presidential Palace because he reportedly kept him in the dark over the details of the formation of the next cabinet.
MTV also reported that Suleiman insisted during their meeting that the ministries of defense and interior should be represented by his own ministers.
According to the report Free Patriotic Movement leader MP Michel Aoun is also insisting on having both ministries .
It appears that the main obstacle hindering the formation of the new cabinet is the dispute between Suleiman and Aoun over the 2 ministries
An-Nahar newspaper reported on Wednesday that talks between Suleiman and Mikati focused on a 24- member cabinet to be represented by centrists as well as March 8 and technocrats who together will make up the new majority.
An-Nahar quoted sources close to Mikati as saying that the government is likely to be announced at the end of the week or early next week at the latest.
According to observers Suleiman and Mikati would appoint the centrists, with Hezbollah's approval.
On Monday, former Lebanese president and current Phalange Party leader Amin Gemayel announced during a press conference that March 14 will not take part in the cabinet. He said talks with Mikati over March 14's participation in the new Cabinet reached a dead end because March 8 changed their own rules.
The Iranian and Syrian backed Hezbollah brought down PM Saad Hariri's government on January 12 over the Special Tribunal for Lebanon's ( STL) indictment which is widely expected to implicate Hezbollah members in the assassination of former PM Rafik Hariri in 2005 .
Mikati, who was backed by Hezbollah and its March 8 allies including MPs Walid Jumblatt and Mohammad Safadi, was appointed by president Michel Suleiman as PM-designate to form and head the next cabinet , giving Hezbollah and its allies increased leverage in the country and provoking widespread protests.