Google executive 'ready to die' to bring change to Egypt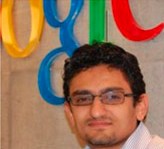 Egyptian Google executive Wael Ghonim is "ready to die" to bring change to Egypt, he said Wednesday.
In an exclusive interview with CNN, Ghonim also said it is "no longer the time to negotiate" with the regime of Egyptian President Hosni Mubarak.
"There's a lot of blood now" that has been spilled, he said.
Ghonim played a key role in organizing the protests that have convulsed Egypt for more than two weeks. He was the administrator of a Facebook page that is widely credited with calling the first protest January 25.
He was released recently after being detained for a week and a half.
Ghonim appealed to top officials in the Egyptian government, saying "If you are true Egyptians, if you are heroic Egyptians, it's time to step down."
Human Rights Watch said Tuesday the number of people killed in the Egyptian protests has reached 302 — 232 in Cairo, 52 in Alexandria and 18 in Suez.
Ghonim has been treated as a hero since his release. A crowd of thousands cheered him when he spoke recently at Tahrir Square, where hundreds of thousands of protesters have demanded change for the last 16 days.
As he walked down the streets of his upscale neighborhood Wednesday, clutching a laptop, passersby recognized him and ran up to kiss him on the cheek and embrace him. A taxi driver stopped his car in traffic, got out and hugged the 30-year-old executive. Another driver handed a cell phone to Ghonim and asked him to say a few words to his daughter.
Yet Ghonim said he is uncomfortable about being the face of the popular uprising in Egypt.
"This is not about me," he said several times during an hour-long and emotional interview in a relative's Cairo apartment..
He conceded that President Hosni Mubarak has "sacrificed a lot" for Egypt but said the 82-year-old leader represents a system that needs to be replaced. He demanded that Mubarak's ruling National Democratic Party be immediately dissolved. He also said, though, that Mubarak should be treated with dignity.