Syrian Security Forces Crack Down on Rallies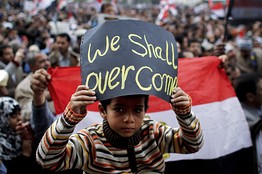 Syria, despite Facebook calls for protest and speculation by analysts that it could be ripe for Egypt or Tunisia-style unrest, has remained free of almost any trace of popular demonstrations like those countries have experienced.
A major reason for that was apparent Friday and Saturday when a gauntlet of plainclothes security service agents deployed around the Parliament building, where social-media sites had called for demonstrators to gather. In the days running up to the would-be gatherings, several members of Damascus's small circle of civil rights activists were warned against participating.
No protestors were visible on Friday or Saturday.
On the eve of Friday's protest, called for on a number of online pages devoted to an Egypt-style "Day of Rage," security services in the northern city of Aleppo arrested Ghassan al-Najjar, a 70-year-old opposition figure who heads a small Islamist group, according to human-rights groups and Mr. Al Najjar's group. Mr. al Najjar had called for peaceful protests in Syria in the wake of Egypt's uprising.
Smaller gatherings held earlier in the week in support of Egyptian demonstrators were broken up by authorities.
A week earlier, a vigil at the Egyptian embassy in Damascus was met by a heavy security force which later dispersed the protestors.
Human Rights Watch said 15 demonstrators who had gathered in Damascus's Old City on Wednesday were beaten before being told to leave. A spokesman for the Syrian government couldn't be reached for comment.
On Thursday, several demonstrators were briefly questioned by authorities after a small gathering outside the parliament to complain about corruption and high cellphone costs of the two companies operating in Syria, according to civil-society activists who participated.
The quiet in Syria contrasts sharply not only with Egypt's uprising but also with those in Yemen and Jordan. Those countries have seen thousands of citizens take to the streets to demand leadership changes and make their governments more responsive. Those demonstrations have been largely peaceful and have achieved some concessions from Jordanian and Yemeni governments.
Syria, where president Bashar al Assad inherited the reins of his father's longstanding regime in 2000, has some of the same problems that served as kindling for the explosions in Tunisia and Egypt. The economy hasn't generated nearly enough jobs to dent unemployment that is officially in the mid-teens but in reality is even higher.
The country also continues to struggle with the burden of hundreds of thousands of displaced Iraqis and waves of Syrians that have moved to the cities from areas in the north of the country devastated by years of drought. The influx of Iraqis, especially, has pushed up rents and forced Syrian schools to absorb some 25,000 new students.
Aside from Syria's long-proven willingness to crack down on dissent—some activists who signed a statement calling for political opening in 2005 were jailed for years—there are additional reasons why Syrians seem largely content to stay out of politics and protest.
Social media such as Facebook is growing in popularity, but remains illegal and underdeveloped even by Middle East standards. "There's not a blogging culture. They're still young and trying to figure out the Internet," said one civil-society activist.
The Syrian government makes much of its high-profile opposition to many U.S. and Israeli interests in the region—positions Syrian officials point out are closely aligned with Arab popular opinion. Syrian state media barely noted the uprising in Tunisia, a peripheral country in the orbit of U.S. influence that has no diplomatic ties to Israel.
The protests against Egyptian President Hosni Mubarak, with whom the President Assad has had a rancorous relationship, have been splashed across state-controlled media every day, along with commentary pointing out Egypt's peace treaty with Israel and its pro-American stances.
For all of Syria's economic challenges, stifled civil society and relative international isolation, President Assad remains an appealing figure for many Syrians, as well. In contrast to the aging leaders of most Middle Eastern countries, Mr. Assad and his energetic wife make an attractive young couple that puts a modern veneer on the regime for many Syrians.
Mr. Assad took over from his father, a military man who ruled Syria with an iron grip for decades, to widespread hopes he would be a reformer. Those hopes were dashed with crackdowns on dissenters and civil-society activists in the early 2000s, and a go-slow approach to economic reform.
Mr. Assad blames the slow pace of reform on the turmoil created in the region when the U.S. attacked neighboring Iraq and worked to push Syria out of Lebanon after the assassination of former Lebanese Prime Minister Rafik Hariri, which some in Lebanon and the international community initially blamed on Syria. Syria has denied any involvement in the killing.
Assad has said reform will move forward this year, although slowly, with a new law governing civil society groups, which are largely banned now, and moves to open local government positions to popular elections.
Even many civil society leaders who have been critical of the government seem willing to work with slow reform. They argue that incremental change is better than upheaval. They said allowing more civil-society groups and popular elections at the municipal level could start to make a difference.
"I think they've started to make changes," said one, who said he had been warned by the government to avoid speaking publicly about politics.