Iranian opposition to stage rally in support of Egypt, Tunisia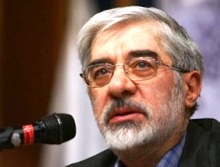 Iran's two leading opposition figures have called for a rally in support of the uprisings in Egypt and Tunisia, an opposition website reports.>
In a letter to Iran's Interior Minister, Mir Hossein Moussavi and Mehdi Karrubi asked permission for the rally on Monday, February 14, to show solidarity with the uprisings in the Middle East, Saham News reported.
"In order to declare support for the popular movements in the region, particularly with those of the freedom seeking movements of the people of Egypt and Tunisia against dictatorships, we request a permit to invite the people for a rally," said the letter, which was dated Saturday.
Members of the Iranian government have expressed strong support for the uprising in Egypt.
Moussavi and Karrubi, both former presidential candidates, asked that the rally take place at Tehran's Azadi Square, the site of mass protests by Iran's opposition movement after the disputed 2009 presidential elections.
For nearly eight months, supporters of Iran's so-called Green Movement chose major calendar days to protest in cities throughout Iran. Many of the movement's grievances were identical to those being expressed in the streets of Cairo.
Protesters condemned what they called an oppressive regime, demanded political and social freedom, and called for a more representative government.
The Islamic Republic eventually quelled the demonstrations in Iran with a brutal crackdown against the peaceful street protests, and the arrests of hundreds of activists, reformists and opposition figures, some of whom remain behind bars.
Since the disputed 2009 elections and the uprising that followed, Iranian authorities have rejected all requests by Iran's opposition movement for peaceful demonstrations.
Supreme Leader Ayatollah Ali Khamenei called the movement a Western ploy to overthrow the regime, but he has praised the uprising in Egypt, calling it an "Islamic awakening" against a U.S.-backed dictatorship.
"Do not accept anything less than an independent popular regime that believes in Islam," Khamenei said in a message to the Egyptian people during his speech at Friday prayers last week.CNN