Gemayel : No deal. March 8 changed own rules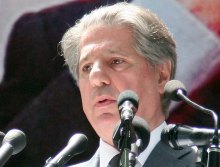 Former Lebanese president and current Phalange party leader Amin Gemayel criticized the Hezbollah led March 8 alliance during a press conference on Monday accusing them of changing their own rules.
"We do not understand … consensus was not accepted, and they did not accept that the democratic game be governed according to the exact course that they specified during the terms of the past two governments.
He was referring to the pressure that was exerted by the March 8 alliance on former PM Fouad Siniora and outgoing pm Saad Hariri to secure a blocking third in the cabinet citing consensus and national unity as the basis for their demands
The Phalange party leader Amin Gemayel was delegated by March 14 alliance the role of negotiating with Mikati its conditions for participation in the cabinet.'
"We took upon ourselves the responsibility of extending a hand to all and giving Prime Minister-designate Najib Mikati an opportunity to form a cabinet of national partnership."
He added : We were the first to try to open a breach in the closed wall by holding consultations in coordination with our allies, based on the openness and moderation that Prime Minister-designate expressed when he was appointed to form the cabinet.
Gemayel expressed disappointment with March 8 alliance but remained hopeful
"In politics we cannot say that doors are "closed," but at this moment, after all the contacts that were made in agreement and continual communication with March 14 forces, we were unable to reach a solution that achieves the national interest and true consensus."
He added :
" Our hand is still extended if there is an intention to renew communications. We wonder at the March 8 team, which used to profess the logic of consensual democracy and used to believe that these decisions must be taken through consensus.
He conclude his statement by saying: it grieves me that we have reached this result after all these good intentions that we showed.
Dispute with aoun
In a related development a dispute between President Michel Suleiman and Free Patriotic Movement ( FPM) leader Michel Aoun over the distribution of Cabinet posts may delay the formation of a new government, the pro- Syrian newspaper Al-Akhbar reported
Al-Akhbar on Monday quoted well-informed sources as saying that government formation hit a snag after a "conflict" broke out between Suleiman and Aoun over the interior ministry portfolio.
The sources said that while Aoun is demanding to have the interior ministry, Suleiman is insisting on exclusively keeping this post .
Another dispute
FPM sources were reportedly surprised by statements attributed to Mikati during an interview with Al-Hayat published Sunday, in which he said that he asked the former army general to provide him with names and qualifications so that the premier-designate can choose the right person for the job.
FPM sources accused Mikati of trying to give Suleiman a "large part of March 14 's quota, in reference to the March 14 share in the outgoing cabinet .
The Iranian- and Syria-backed Hezbollah brought down PM Saad Hariri's government on January 12 over the Special Tribunal for Lebanon's ( STL) indictment which is widely expected to implicate Hezbollah members in the assassination of former PM Rafik Hariri in 2005 .
Mikati, who was backed by Hezbollah and its March 8 allies including Jumblatt and Mohammad Safadi, was appointed by president Michel Suleiman as PM-designate to form and head the next cabinet , giving Hezbollah and its allies increased leverage in the country and provoking widespread protests.