Cairo protesters mount 'day of departure'
Thousands of people have converged on Cairo's Tahrir Square under heavy military watch for a rally billed as the day of departure — the deadline by anti-government organizers for Egyptian President Hosni Mubarak to resign.
Protesters waving Egyptian flags, singing the national anthem and cheering appear undaunted after two days of street battles with Mubarak supporters that added to the toll of deaths and wounded since the demonstrations began Jan. 25.
CBC's Margaret Evans said there is a heavier military presence around the square, and long lineups of people are trying to get in to join the rally.
CBC's Nahlah Ayed said some of the protesters were also checking bags and identifications.
"Both the protesters and the army are taking an active interest in keeping things secure here," Ayed said.
Ayed said there was a sense of "excited tension" as Friday prayers ended in the crowded square.
"The mood is jubilant, but it's a bit cautious because people are still nervous about what happened a few days ago," she said, referring to the clashes that started earlier this week between pro- and anti-Mubarak protesters.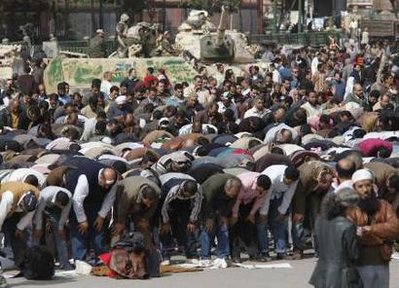 The Facebook page that started the protest movement called on supporters to gather Friday on all Egyptian squares "so that we can put the last nail in the regime's coffin, and declare the victory of the Jan. 25 revolution."
Organizers are hoping to attract one million people to the rally and march on the presidential palace.
The rally follows reports that U.S. and Egyptian officials are discussing a plan in which Mubarak would step down immediately.
The New York Times said Thursday that the plan would see a transitional government led by Vice-President Omar Suleiman brought in with military backing.
Mubarak's immediate departure is just one of several proposals under discussion, the Times said. The newspaper reported officials said there are no indications Suleiman or the military are prepared to stop supporting Mubarak.
Earlier on Thursday, Mubarak said he wanted to step down but fears chaos if he does.
"I am fed up. After 62 years in public service, I have had enough. I want to go," Mubarak said in a 20-minute interview with ABC's Christiane Amanpour at the presidential palace in Cairo.
On Monday night, he said in a speech to the nation that he won't step down before elections in September.
Suleiman said on state television on Thursday that elections must wait until September because the government needs time to talk to different political parties, and put judicial and constitutional reforms in place.
Suleiman also said Mubarak's son, Gamal Mubarak, will not attempt to succeed his father.
Meanwhile, prominent Egyptian reform advocate Mohamed ElBaradei said the president "should hear the clear voice coming from the people and leave in dignity."
He told reporters Friday there should be a yearlong transition to democracy under a temporary constitution with a presidential council of several people, including a military representative.
The political crisis has sparked clashes between those who support Mubarak and those calling for his ouster. At least eight people have been killed and about 900 injured in this week's clashes alone in the square. Protesters had been keeping a peaceful vigil for days before violence intensified a day after Mubarak said he wouldn't refused to step down.
Gangs supporting the president have also attacked reporters, foreigners and human rights workers, and the army has rounded up foreign journalists.
Evans had some of her equipment seized. Separately, CBC host Mark Kelley and his crew were in a vehicle on a bridge when they were surrounded by a group of armed men who demanded to search the car.
Only a plea from Kelley's Egyptian driver, who had been pulled out of the car, defused the tense situation.
The treatment of journalists led Foreign Affairs Minister Lawrence Cannon to call in the Egyptian ambassador to Canada to express his "grave concerns" about the treatment of journalists.
Canada's Foreign Affairs Department said it has logged 15,000 calls on the Egyptian crisis and 489 Canadians have been evacuated on six flights out of that country to date.
The sixth flight left Thursday afternoon for Paris, via Amman, Jordan.CBC