Mubarak wants to resign but fears chaos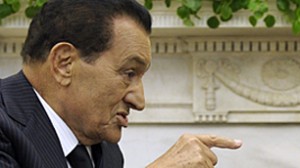 Embattled Egyptian President Hosni Mubarak says he is fed up and wants to step down but fears chaos if he does.
"I am fed up. After 62 years in public service, I have had enough. I want to go," Mubarak said in a 20-minute interview with ABC's Christiane Amanpour Thursday at the presidential palace.
In a phone conversation with U.S. President Barack Obama earlier this week, Mubarak said, "I told Obama you don't understand the Egyptian culture and what would happen if I step down now?"
At the centre of deadly anti-government protests that are in their 10th day are demands that Mubarak resign immediately.
Mubarak had said on Monday night in a speech to the nation that he won't step down before elections in September.
Meanwhile, Monir Abdel Nour, secretary general of the Wafd opposition party in Egypt, is calling Mubarak a "dead man walking."
In an interview with CBC's As it Happens Thursday, Nour said he boycotted talks with the government Thursday, because of the "massacre" he saw on the streets of Cairo Wednesday. He predicts that if demonstrations continue like they have been, a coup d'etat is inevitable.
Earlier Thursday, Egyptian Vice-President Omar Suleiman said on state television that elections must wait until September because the government needs time to talk to different political parties, and put judicial and constitutional reforms in place.
Suleiman also said that Mubarak's son will not attempt to succeed his father.
Gamal Mubarak had long been expected to succeed his father, something widely opposed by Egyptians.
Gunfire and clashes continued in the evening around Cairo's Tahrir Square, with reports of arson and looting around the capital. Gangs supporting the president attacked reporters, foreigners and human-rights workers, and the army has rounded up foreign journalists.
Mubarak supporters and opponents have been fighting for more than 24 hours. At least eight people have been killed since the clashes erupted Wednesday afternoon.
On the international front, a joint statement Thursday from German Chancellor Angela Merkel, French President Nicolas Sarkozy, British Prime Minister David Cameron, Italian Premier Silvio Berlusconi and Spanish Prime Minister Jose Luis Rodriguez Zapatero urged an immediate "quick and orderly transition to a broad-based government."
Merkel also insisted that Mubarak's government put a stop to attacks against anti-government protesters and journalists.
CBC's David Common, reporting from Cairo, said it appeared that soldiers fired over the heads of pro-Mabarak supporters in an effort to keep them apart from the anti-government group.
He said that early Thursday morning a pickup truck with Mubarak supporters drove into a crowd of anti-government demonstrators. The pro-Mubarak supporters were pulled out of the truck and "beaten relentlessly" by the large crowd.
The two sides traded volleys of rocks and Molotov cocktails for much of Wednesday night, until automatic gunfire and powerful single shots rained into the square starting at around 4 a.m. and continuing for more than two hours.
"Most of the casualties were the result of stone throwing and attacks with metal rods and sticks. At dawn today, there were gunshots," Health Minister Ahmed Samih Farid told state television.
"The real casualties taken to hospital were 836, of which 86 are still in hospital, and there are five dead."
Soldiers had not intervened in the clashes, other than firing warning shots.
The Associated Press reported that four tanks cleared a highway overpass from where Mubarak supporters had hurled rocks and firebombs onto the protesters.
Earlier Thursday, Prime Minister Ahmed Shafiq apologized for the attacks on demonstrators.
"This is a fatal error," he said. "When investigations reveal who is behind this crime and who allowed it to happen, I promise they will be held accountable and will be punished for what they did."
The anti-Mubarak movement has vowed to intensify protests to force him out by Friday despite a plea from a military spokesman for anti-government demonstrators to clear the streets and go home.
Canada's Foreign Affairs Department said it has logged 15,000 calls on the Egyptian crisis and 449 Canadians have been evacuated on five flights out of that country to date. A sixth flight was scheduled to leave later Thursday.