Jumblatt urged Mikati to form a national unity government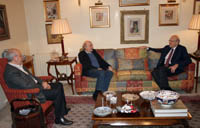 Progressive Socialist Party leader MP Walid Jumblatt said that he had a "positive" meeting with Prime Minister-designate Najib Mikati on Thursday, MTV reported.
Jumblatt who was accompanied by Minister Ghazi Aridi reportedly expressed to Mikati his "absolute support for striving to guarantee a national unity government that includes everyone," the report said.
The report also said that Mikati will meet with a March 14 leader on Friday, although it did not name the leader.
In a related development Jumblatt told LBC on Thursday evening that"Betting on March 14 forces' participation in the cabinet is a delusion, since they have foreign instructions not to participate and to procrastinate."
Outgoing Prime Minister Saad Hariri should "not listen to the advice or some circles in the West, in Paris and Washington," Jumblatt told LBC television.
"The best way to deal with the situation in Lebanon now is to come out with a moderate and balanced government through Mikati." He added
"The symbols that bet on America will fall, and those who depend on the American solution will fall. Only the forces of resistance are able to confront challenges," he said.
Earlier today Mikati spoke with Marada Movement leader MP Suleiman Franjieh over the phone to discuss cabinet formation, National News Agency (NNA) reported.
March 8 blamed
Former Lebanese president and current Phalange Party leader Amin Gemayel said on Thursday that the " March 8 allies who nominated Prime Minister -designate Najib Mikati should cooperate with him to achieve patriotic goals par excellence, but all we hear from them is obstruction that complicates his mission," the National News Agency quoted him as saying after meeting with Frances Guy, British Ambassador to Lebanon.
"We want participation in the cabinet , but it must be real. Participation has conditions. It does not mean that we will be the false witnesses in a government," Gemayel said
Although Mikati's intentions are good, "the other side is obstructing his efforts ," Gemayel said.
"We as March 14 forces did everything we should have and met with PM Mikati and conveyed to him complete preparation to preserve the country's interest and respect international resolutions because they preserve and protect Lebanon.
Mikati, backed Hezbollah and its March 8 allies including Jumblatt and Safadi, was appointed by president Michel Suleiman as PM-designate to form and head the next cabinet , giving Hezbollah and its allies increased leverage in the country and provoking widespread protests.
The Iranian- and Syria-backed Hezbollah brought down Hariri's government on January 12 over the Special Tribunal for Lebanon's ( STL) indictment which is widely expected to implicate Hezbollah members in the assassination of former PM Rafik Hariri in 2005 .
Mikati held two days of talks with parliamentary groups on forming his government last week with the Hariri camp still refusing to join his administration.