Hezbollah confirms its cell members escaped Egyptian jails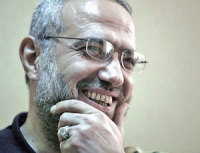 The Hezbollah militant group confirmed Thursday that members of its cell jailed in Egypt on terrorism charges escaped their jails during the ongoing civil unrest and are now safe at a hideout.
Mahmoud Komati, a senior member of the Iranian and Syrian backed Hezbollah, reported that Sami Shihab , the leader of the Hezbollah cell in Egypt, 'was out of jail and safe.'
This follows the Wednesday report by by Al Rai newspaper that the 22 Hezbollah detainees that were convicted of plotting attacks against ships in the Suez Canal and Egyptian tourist sites, among other charges were able to escape from their jail in Egypt.
The newspaper quoted Hezbollah sources on Tuesday as saying that the Hezbollah cell leader whose code name is Sami Shihab and whose real name is Mohammad Youssef Ahmad Mansour , was amongst those that escaped and ..".he is now in a safe location and will soon be back in Lebanon "
Shihab along with thousands of other inmates took advantage of the turmoil in Egypt to escape from the Wadi el-Natroun Prison in Egypt, according to Egyptian reports .
Shihab was sentenced last April to 15 years in prison. Hezbollah leader Sayyed Hassan Nasrallah has previously confirmed Shihab as a member of a Hezbollah cell that was working to smuggle weapons through Egypt to the Gaza Strip.
Shihab was the leader of the cell of 49 people that were charged in 2009,with plotting attacks against Egyptian tourist sites and vessels using the Suez Canal as well as of smuggling weapons into the Gaza Strip, but only 26 were arrested.
Egyptian Interior Minister Mahmoud Wagdy said Tuesday that an estimated 17,000 inmates had escaped from Egyptian prisons amid the chaos sparked by protesters calling for the toppling of the regime of Egyptian President Honsy Mubarak.
Muslim Brotherhood
Last Sunday, 34 members of Egypt's opposition Muslim Brotherhood – including seven members of the leadership – walked out of prison after relatives of the prisoners overcame the guards, a Brotherhood official said.
The relatives stormed the prison in Wadi el-Natroun, 120 km northwest of Cairo, and set free several thousand of the inmates, Brotherhood office manager Mohamed Osama said. No one was hurt, he added.
"They are on their way to Cairo," he said. The seven leaders are from the Brotherhood's Guidance Council and they were arrested on Thursday night and Friday morning during preparations for the massive protests on Friday against Egyptian President Hosni Mubarak.
Osama named them as Mohamed Mursi, Essam el-Erian, Mohamed el-Katatni, Saad el-Husseini, Mustafa el-Ghoneimi, Muhyi Hamed and Mahmoud Abu Zeid.
Prisoners have escaped from several major prisons across Egypt since the protests last Friday, when police morale and discipline started to break down. In many parts of Egypt police have abandoned their stations.
Also on Sunday, three Palestinian security prisoners reportedly escaped back to the Gaza Strip via a smuggling tunnel. Officials in Gaza said the three, including at least one Hamas member, had fled during the upheaval and returned to the coastal territory.
The prison breakouts added to the chaos engulfing the country as anti-government protests continue to demand the ouster of longtime President Hosni Mubarak.