Aoun launches another attack against STL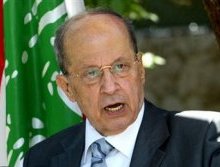 MP Michel Aoun said today that whoever wants to join the government should accept the new reality and accept the views of the new majority, in reference to the Hezbollah led March 8 alliance.
He questioned giving the March 14 alliance a blocking third in Prime Minister-designate Najib Mikati's new cabinet, saying the country should not return to political paralysis.
Aoun added that his bloc has not yet started discussing the distribution of portfolios in the new cabinet.
Aoun , who is a key ally of Hezbollah launched another attack against the STL and warned
"No one can accept the STL's ongoing functioning once he has become part of the government."
He added: "The STL is an attack against our sovereignty and we resorted to the blocking minority for the purpose of building the state and not obstructing it."
He said :"Get over the Special Tribunal for Lebanon (STL), we have a reform movement and we cannot form the cabinet with the mentality of the past."
He added : The false witnesses file cannot disappear and there can be no forgetting what has happened in the past.
he Iranian and Syria-backed Hezbollah brought down Hariri's government on January 12 over the Special Tribunal for Lebanon's (STL) indictment which is widely expected to implicate Hezbollah members in the assassination of former PM Rafik Hariri in 2005 .
MP Najib Mikati, backed Hezbollah and its March 8 allies including Jumblatt , was appointed last Tuesday by president Michel Suleiman as PM-designate to form and head the next cabinet , giving Hezbollah and its allies increased leverage in the country and provoking widespread protests.
The March 14 alliance is demanding that Mikati, a political moderate with good ties to Syria, guarantee he will not disavow the tribunal.