PSP: STL has become the antithesis of stability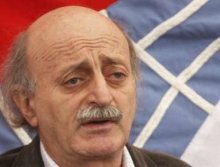 The Special Tribunal for Lebanon (STL) has deviated from its course of work the Progressive Socialist Party (PSP) said in a statement on Sunday following its General Assembly meeting, adding , that media leaks have proven this to be true.
The STL has become the antithesis of stability, the PSP added in a statement.
"The PSP discussed Syrian-Saudi efforts on Lebanon… We also discussed Turkish-Qatari efforts which failed due to US and international interference…"
"The party is still committed to its Arab and national course of work, which is represented by special relations between Lebanon and Syria as well as protecting the Resistance. The party is allied with both… and will deal with the next stage accordingly."
"The party reaffirms its commitment to civil peace, which the party has scarified for its sake several times. The party's recent political stance – which will not be the last of its sacrifices – has protected the country from… domestic strife and [played a big role] in defusing tension…"
Talking to reporters following the meeting at the Beau Rivage hotel, PSP leader MP Walid Jumblatt said: "There is nothing new to say. The results of the meeting will be announced in a statement."
"We still hold onto the Taef Accord," he added.
Syria and Saudi Arabia — who back rival camps in Lebanon — had for months been trying to mediate a settlement to the crisis. When their efforts failed Saudi Arabia abandoned its efforts raising concerns in Lebanon that the crisis was headed for a confrontation.
Qatar and Turkey tried to pick up on the Saudi and Syrian initiative. But two days of meetings by their foreign ministers with rival Lebanese politicians failed to produce a deal.
The Iranian- and Syria-backed Hezbollah brought down Hariri's government on January 12 over the Special Tribunal for Lebanon's ( STL) indictment which is widely expected to implicate Hezbollah members in the assassination of former PM Rafik Hariri in 2005 .
MP Najib Mikati, backed Hezbollah and its March 8 allies including Jumblatt , was appointed last Tuesday by president Michel Suleiman as PM-designate to form and head the next cabinet , giving Hezbollah and its allies increased leverage in the country and provoking widespread protests.
The March 14 alliance is demanding that Mikati, a political moderate with good ties to Syria, guarantee he will not disavow the tribunal.