Franjieh: Not all parties will be in the new government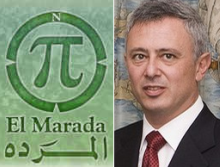 Marada Movement leader MP Suleiman Franjieh said after his meeting with Prime Minister-designate Najib Mikati as part of parliamentary consultations to form a government, It is likely that the new government will be one color.
He added all the religious sects will be represented in the government but not all the political parties.
Mikati, backed by Hezbollah and its March 8 allies , was appointed Tuesday by president Michel Suleiman as PM-designate to form ano defeatd head the next cabinet , giving Hezbollah and its allies increased leverage in the country and provoking widespread protests.
Hezbollah brought down Hariri's government on January 12 over the Special Tribunal for Lebanon's ( STL) indictment which is widely expected to implicate Hezbollah members in the assassination of former PM Rafik Hariri in 2005 .