Saudi king in Morocco after surgery in U.S.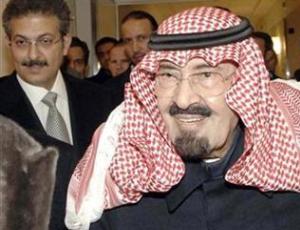 Saudi Arabia's elderly King Abdullah arrived in Morocco Saturday to convalesce after spending almost two months in New York for medical treatment, Saudi state media said.
The official Saudi Press Agency (SPA) said Abdullah, aged about 87, arrived in Casablanca where he often spends holidays, but gave no date for when he would return to the kingdom.
Diplomats say there has been uncertainty about Abdullah's health since he canceled a visit to France in July.
The ruler of the world's biggest oil exporting country came to the throne in 2005 and is the sixth leader of the OPEC state, whose political stability is of global concern.
The king left Riyadh on November 22 and underwent two operations in New York after a blood clot complicated a slipped disc.
The official Moroccan news agency showed a picture of Abdullah walking with a stick upon his arrival where he was received by Morocco's King Mohammed.
Abdullah had originally arrived in New York in a wheelchair. He was later shown on Saudi state television walking slowly after leaving hospital on December 22.
Based on the most recent picture, issued by SPA on January 11, he appeared to have lost weight.
Saudi Arabia controls more than a fifth of the world's crude oil reserves and is a vital U.S. ally as well as a major holder of dollar assets and home to the biggest Arab bourse.
Riyadh has been keen to show its allies there will be no power vacuum as health problems affect its octogenarian rulers.
Yet the king's medical woes have caused concern over whether a reformist like himself or a conservative would succeed him.
A frail Crown Prince Sultan, who has been abroad for unspecific treatment for much of the past two years, returned from holiday in Morocco to govern the kingdom in Abdullah's absence.
With both Abdullah and Sultan in their 80s, speculation has arisen that Interior Minister Prince Nayef, 76 and a conservative, could take over in the future.
Diplomats say Abdullah's absence might also fuel rivalry inside the ruling family in the view of possible succession as most senior leaders and key ministers are in the 70s or 80s.
Dubai-based analyst Mustafa Alani said the kingdom's strong statement last week to end any future mediation in Lebanon shows that Abdullah would stay in control.
"Abdullah remains in control as you can seen…and Nayef is loyal," said Alani, citing several meetings Abdullah held in the United States with top officials including Secretary of State Hillary Clinton as an indication of his authority.
UNCLEAR SUCCESSION
As home to Islam's holiest sites, as well as the birthplace of al Qaeda leader Osama bin Laden, Saudi Arabia is central to global efforts to fight Islamic militancy.
Washington wants Riyadh to continue Abdullah's reforms which were seen as essential after a group composed of mainly Saudis carried out the September 11, 2001 attacks in the United States.
Diplomats say Western governments were concerned about the fate of reforms if Nayef, seen as a religious and social traditionalist, ascends to the throne.
Nayef was promoted to second deputy prime minister in 2009, a move that puts him in a position to become king if Abdullah and Sultan afflict serious health problems.
Analysts say the ruling family also needs to promote younger princes and work out a mechanism for succession as only sons of state founder Abdul-Aziz Ibn Saud can become kings of which only 20 are left, many in poor health or lacking qualifications.
King Abdullah has set up an "Allegiance Council" to regulate succession and help find consensus among the different wings of the royal family which founded the kingdom with the help of Sunni clerics in 1932.
But it is so far unclear what its exact mandate will be and when the council will be set in motion.
Reuters