Sayegh: Instability in Lebanon will spread to the entire ME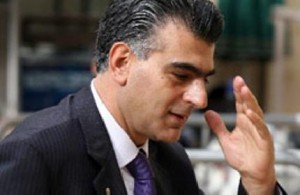 "Instability in Lebanon will spread to the whole region, and Syria knows that, " Minister of Social Affairs Salim Sayegh told Al-Jazeera television on Friday .
"Prime Minister Saad Hariri was asked to surrender, instead of being asked to make a compromise," Sayegh added.
In an address to the Lebanese people Caretaker Prime Minsiter Saad Hariri said he decided to maintain his candidacy for premiership and accused the Iranian backed Hezbollah led opposition of trying to kick him out of political life.
"Syria should deal with Lebanon as a sovereign, independent country," Sayegh said, adding that "Lebanese figures should deal with their fellow nationals instead of visiting Syria."
"Saudi Arabia has a major role in Lebanon, but the Saudis said they will no longer proceed with mediation efforts in the country."
Many fear the political crisis in Lebanon could lead to street protests and violence .
Following the announcement by the Special Tribunal for Lebanon that Prosecutor Daniel Bellemare has handed the indictment to STL's pre-trial judge , Hezbollah supporters wearing black and clutching hand-held radios quietly gathered around Beirut … an innocuous yet threatening display by the country's most powerful armed force. Many parents picked up their children from school as word spread of the gatherings.
There were reports that Hezbollah members repeated their display of force yesterday in the Druse stronghold of Aley and neighboring areas and there are unconfirmed reports that they will be repeating the same act tonight in Beirut and surrounding areas
In a sign of just how high tensions are running, Wiam Wahhab, a pro-Syrian politician, warned security troops not to use force against demonstrators or they will face the same fate as Tunisia's former President Zine El Abidine Ben Ali, who was deposed last week.
The move brought down the unity government and further polarized the country's rival factions: Hezbollah with its patrons in Syria and Iran on one side, and Hariri's March 14 majority bloc on the other.
The U.S. has called Hezbollah's walkout a transparent effort to subvert justice.
The court is widely expected to accuse members of Hezbollah of being involved in former PM Rafik Hariri's killing, something the militant group has insisted it will not accept. The Iran- and Syria-sponsored group says the tribunal is a conspiracy by Israel and the United States.
Bellemare said in a video statement Tuesday that the confidential indictment was an important moment for the people of Lebanon, the international community and "for those who believe in international justice, " and warned against speculating about the sealed indictment