Assad follows in his father's footsteps
By : Ali Hussein, Ya Libnan Volunteer It appears that Syrian president Bashar al Assad is following in his father's footsteps and has decided to use his father's old trick of divide and rule to reoccupy Lebanon.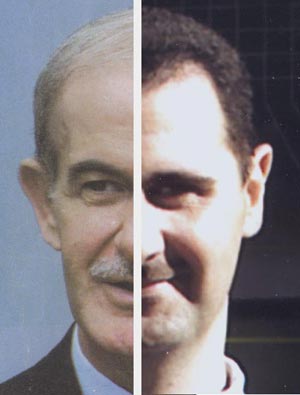 By : Ali Hussein, Ya Libnan  Volunteer
It appears that Syrian president Bashar al Assad is following in his father's footsteps  and has decided to use his father's old trick of 'divide and rule' to reoccupy Lebanon.
According to Lebanese observers familiar with the Syrian regime's thinking,  Assad never intended to end the crisis in Lebanon , he reportedly used the Saudi -Syrian dialogue as a cover for Syria's comeback to Lebanon and for this reason the Saudi Syrian efforts failed and so did the Qatari-Turkish  efforts .
The  observers  believe that Assad all along wanted the crisis in Lebanon to escalate and to lead  to a Muslim Sunni- Shiite strife in order for him to  justify sending his troops as the savior for Lebanon  , just like his father did in 1976  when he occupied  Lebanon until 2005  (following the assassination of former PM Rafik Hariri ) when Syrian troops had to withdraw under Lebanese and US pressure.
In an address to the Lebanese people Caretaker Prime Minsiter Saad Hariri said he decided to maintain his candidacy for  premiership and accused the Iranian backed Hezbollah led opposition of trying to kick him out of political life .
He said he made one sacrifice after another but the opposition always wanted more and "unfortunately the Saudi Syrian efforts failed "
MP Walid Jumblatt was told by Hariri prior to his meeting  last Saturday with the Syrian president : "They want me to surrender and present concession after concession … on top of that they have a gun pointed to my head," he was quoted as saying.
Hariri also reportedly told Jumblatt that the opposition cannot be counted on in respecting agreements, as proven through its violation of the Doha agreement when the opposition ministers resigned from Cabinet.
There is no reason  for Hezbollah  to celebrate according to the observers because :
–          Under no circumstances will Syria allow Hezbollah to completely control Lebanon for security reasons. Complete control of Lebanon will spell disaster for Syrian security , because any war between Israel and Hezbollah will mean a war on Syria too
–          Once Hezbollah is in complete control of Lebanon then Iran will be in full  control  of the country and  Syria will lose its only card in negotiating a peace agreement with Israel to regain control of the Golan Heights .
–          Just like his father(the late Hafez  Assad) , Bashar will invade Lebanon and his target will be ….yes Hezbollah as his father targeted his former allies the Palestine Liberation Organization in 1976
Assad could have easily convinced Hezbollah to cooperate during the Saudi Syrian peace efforts, but  observers believe he decided not to do so because he  wanted to play off Hariri against Hezbollah to create a Sunni Shiite strife .
Assad could have also easily convinced MP Walid Jumblatt to continue supporting Hariri's candidacy  , but obviously he didn't .
Jumblatt  who has the decisive vote has reportedly informed concerned officials in the Future movement that he is being subjected to great pressures against naming Caretaker Prime Minister Saad Hariri as the premier of a new government, knowing that he had previously informed Hariri that he would be naming him. He will now name former Lebanese prime minister Omar Karami in place of Hariri.
Jumblatt reportedly informed his circles that the policy of insisting on Hariri as the new prime minister will lead to "catastrophic consequences" on the security field, on him personally, PSP members, and the Druze in the Shouf, Alley, Hasbaya, and the western Bekaa.
This comes a day after Jumblatt dispatched to Syria Public Works and Transportation Minister Ghazi Aridi,( who is a member of the Progressive Socialist party and   also a member  of Jumblatt's Democratic Gathering parliamentary bloc  ) reportedly to obtain Assad's latest  instructions  as the  Turkish Qatar' talks appeared destined to fail .
According to report by Al Jazeera when  the Lebanese woke up this morning and heard that the Qatari and Turkish mediation efforts have failed , this raised a lot of fear .
"There's a lot of fear in this country that without some sort of agreement, the situation could spiral out of control and we've seen that happen in the past." The report said and added
'"The Lebanese are now bracing themselves for what could be a long, drawn-out political crisis; a crisis that could lead to violence and in the words of the Saudi foreign minister, a dangerous political crisis that could lead to the division of Lebanon.
MP Atef Majdalani, a member of    Hariri's parliamentary majority bloc , said he believes the latest developments indicate that Hezbollah planned to resort to military action to impose its agenda.
"As far as I am concerned what is happening means that Hezbollah has decided to resort to military action and to pursue the coup it launched by withdrawing its ministers from the government last week," Majdalani told the AFP news agency.
Hariri told the Lebanese people today : "One drop of blood of Lebanese citizens is more precious than anything else.
He said : "For this reason we decided not to take to the streets…. because we are committed to the constitution and added :"Taking to the streets is not a nationalistic rhetoric."
The question is : Will the Sunnis allow Hezbollah to take over the country?
God help Lebanon