Tunisia plans unity government to quell violence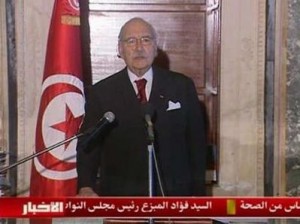 Tunisia's new leadership moved to form a coalition government to gain the upper hand over violent looters and quell arson and shooting that broke out after President Zine al-Abidine Ben Ali was ousted by protests.
Speaker of parliament Fouad Mebazza, sworn in on Saturday as interim president, asked Prime Minister Mohamed Ghannouchi to form a government of national unity. Constitutional authorities said a presidential election should be held within 60 days.
Soldiers and tanks were stationed in the center of Tunis to restore order in the aftermath of looting that broke out when Ben Ali, president for more than 23 years, fled to Saudi Arabia following a month of violent anti-government protests that claimed dozens of lives.
The ousting of Tunisia's president, after widespread protests, could embolden Arab opposition movements and ordinary people to challenge entrenched governments across the Middle East.
"What will worry many governments in the region is that the crisis was spontaneous and not organized," said Henry Wilkinson of the Janusian Security Consultancy.
Gunmen fired at random from cars in Tunis on Saturday and inmates staged a mass jailbreak while leaders tried to prevent Tunisia from descending into chaos after the president was swept from power.
It was not clear who the assailants were but a senior military source told Reuters that people affiliated to Ben Ali were behind the shootings.
The French government called on Tunisia to hold free elections as soon as possible and said it had taken steps "to ensure suspicious financial movements concerning Tunisian assets in France are blocked administratively," President Nicolas Sarkozy's office said in a statement.
Opposition leader Najib Chebbi said after talks with Ghannouchi that elections could be held under international supervision within six or seven months.
"Mr Ghannouchi proposed that our party participate in the formation of a government of national unity that would be open to democratic forces, which means our party and two others," Chebbi told French RTL radio.
Ghannouchi is due to hold more coalition talks on Sunday.
Dozens of inmates were killed when they broke out of Mahdia prison and the prison at Monastir, also south of the capital, was on fire after a separate escape attempt, witnesses said.
"They tried to escape and the police fired on them. Now there are tens of people dead and everybody has escaped," said a local man, Imed, who lives 200 meters (yards) from Mahdia jail.
Forty-two people died in the Monastir riot, the official news agency said.
Ghannouchi confirmed reports that members of Ben Ali's family had been arrested, but did not say who.
Al Jazeera television also reported that Ben Ali's head of presidential security had been arrested.
Protesters have threatened to continue their campaign.
"We will be back on the streets, in Martyrs Square, to continue this civil disobedience until … the regime is gone. The street has spoken," said Fadhel Bel Taher, whose brother was one of dozens of people killed in the protests.
In Washington, White House spokesman Tommy Vietor said Ben Ali's departure could give the Tunisian people a say in how they are governed and if elections are free and fair it would deal a blow to the Al Qaeda in the Islamic Maghreb militant group.
Germany's Chancellor Angela Merkel urged Tunisia to introduce "a true democracy" and said the European Union would support it.
Hundreds of European tourists stranded by the unrest were flown home on emergency flights. Tunisian air space, closed on Friday, was reopened and the official news agency said all airports were open.