Syria pressuring Jumblatt to side with opposition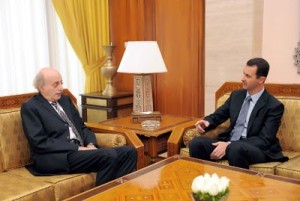 Syrian President Bashar al-Assad met with Progressive Socialist Party leader MP Walid Jumblatt in Damascus on Saturday, The Syrian news agency SANA reported
The meeting according to SANA focused on the latest developments in Lebanon and the region.
The two leaders stressed the importance of being aware of foreign intervention, calling for decisions and solutions to be in the hands of the sons of the region.
According to local reports Jumblatt is going to tell the Syrian authorities that he cannot convince all the members of his Democratic gathering bloc to vote for the PM candidate of the opposition and for this reason he is working on a compromise during the parliamentary consultations to delay the designation of a new prime minister with the aim of returning Hariri as the head of the government
Lebanon Files reported that Syria is insisting that the majority of Jumblatt's MPs should vote for the opposition candidate . They want Jumblatt to name 8 of his 11 member bloc to vote for the opposition.
According to observers Jumblatt with his defection from March 14 got himself into a big mess and there is no one to blame but himself .
Prior to heading to Damascus , Jumblatt met with Caretaker PM Saad Hariri . Hariri according to sources told Jumblatt: "They want me to surrender and present concession after concession … on top of that they have a gun pointed to my head," he was quoted as saying.
Hariri also reportedly told Jumblatt that the opposition cannot be counted on in respecting agreements, as proven through its violation of the Doha agreement when the opposition ministers resigned from Cabinet.