Hezbollah chief to appear Sunday on TV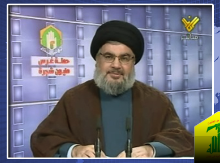 Hezbollah chief Hassan Nasrallah will appear on TV via video link on Sunday for the first time after the ministers of his party and its allies toppled the government of PM Saad Hariri, Al Manar TV reported.
"The secretary general of Hezbollah, Hassan Nasrallah, will make an appearance on Sunday at 8:30 pm (1830 GMT) on Al-Manar television to comment on the latest developments," the report said.
There has been many conflicting reports over his TV appearance . Hezbollah's Al Manar first reported last Thursday that he will appear on Friday , then yesterday OTV which is owned by MP Michel Aoun, a close ally of Hezbollah reported that Nasrallah postponed his appearance till after consultations over the nomination of a prime minister designate are completed .