Scenarios: Possible outcomes of Lebanon's government talks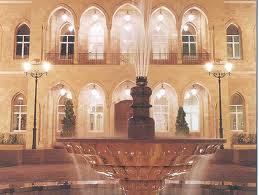 Lebanon will start talks on Monday to form a new cabinet after a rift between Hezbollah and Prime Minister Saad al-Hariri over expected indictments for the 2005 killing of his father toppled the government.
Few think a new cabinet likely until a compromise is found in the dispute over the possible indictment of Hezbollah figures by a U.N. tribunal probing Rafik al-Hariri's assassination.
Hezbollah, which is supported by Syria and Iran, denies any link to the assassination and says the tribunal is an "Israeli tool." The group has asked Hariri to repudiate the tribunal and withdraw Lebanon's support. The West and Saudi-backed Hariri, a Sunni Muslim, rejected their demands.
The government collapsed when 11 ministers resigned after Saudi Arabia and Syria failed to forge a deal over the tribunal. According to the constitution the president must name a prime minister to form the government after binding consultations with members of 128-member parliament.
Hariri's coalition won a majority in a 2009 election but since then Druze leader Waleed Jumblatt, who was Hariri's strongest ally and who heads a bloc of 11 deputies within Hariri's coalition, has declared himself neutral.
Under Lebanon's power sharing system the president must be a Maronite, prime minister a Sunni and the speaker a Shi'ite.
Below are some scenarios:
HEZBOLLAH AND ALLIES FORM CABINET WITHOUT HARIRI
Hezbollah and its allies, with Jumblatt's backing, could ask a Sunni supporter to form a government excluding Hariri and his allies. The government's main role would be to oppose the tribunal and withdraw Lebanon's support for it.
But excluding Hariri would cause resentment among the wider Sunni population in Lebanon who see him as their main leader, and would feel they had lost their role in the country. Violence could erupt, and bombing could return to the streets.
Another risk could also be angering Sunni jihadi groups, close to al Qaeda's thinking, who see Hezbollah as an arm of Shi'ite Iran in the country which should be opposed.
Regional countries like Saudi Arabia and Egypt, who are worried about Iran's growing influence in the region, would likely oppose such a government and seek to isolate it.
HARIRI IS ASKED TO FORM A GOVERNMENT AGAIN
Hezbollah and its allies might ask Hariri to form the new government but with conditions, such as cutting ties with the tribunal, stopping its funding and vetoing some names in Hariri's bloc.
Hariri is likely to reject those demands and refuses to form a government which will give in to Hezbollah's demands.
If he rejects the nomination, talks will be renewed.
Hariri might decide to form a government without Hezbollah and its allies. Hezbollah would consider the government an arm of the tribunal, and would oppose it. The security situation would blow up. Street fights similar to the gun battles in 2008 would occur.
FACTIONS AGREE ON A COMPROMISE CANDIDATE
One of the options discussed is that Hariri, Hezbollah and their allies name a "neutral" candidate who can oversee procedures for Lebanon to withdraw its support for the tribunal, pull the Lebanese judges and stop the funding.
Such a scenario is seen as the ultimate compromise which can secure the country's stability without weakening Hariri or exposing him so that he could lead another government later.
Officials say privately that such an option is likely to have Saudi and French backing. Washington, which insists the tribunal should continue its work no matter what, opposes it.