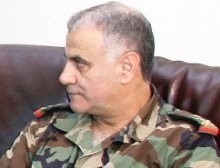 Lebanon Army Commander General Jean Kahwaji held talks with the Iranian Ambassador to Lebanon to discuss current political developments, according to local reports
Earlier today Kahwaji also met the Dutch Ambassador to Lebanon on the current political developments.
Yesterday Kahwaji commended the army's role in maintaining the peace and stability in Lebanon and the border areas through coordination between it and the United Nations Interim Force in Lebanon.
"Maintaining security is an absolute priority for the army because it is a solid base for restoring political agreements," Kahwaji stressed in reference to political tensions in Lebanon.
He stressed the political tension will not negatively impact the army's morale and determination to confront those seeking to destabilize the country.
Kahwaji expressed his trust in the military institution and security forces, and the country's keenness on the higher national interest, all of which will help overcome the current crisis.
Earlier on Thursday and during an interview with Qatari newspaper Asharq Alawsat, Kahwaji ruled out civil war in Lebanon, stressing that the Lebanese army was "fully prepared to curb the flames of tension, " adding Lebanese rival leaders "will not provide free service to the enemies of Lebanon, particularly Israe that works day and night to break up Lebanon's unity and weaken the Lebanese people's spirit."
Lebanon's government is dissolved when more than one third of its 30 cabinet members resign, and on Wednesday all 10 ministers belonging to the Iranian backed Hezbollah-led opposition announced their resignations. Hours later, they were joined by an eleventh minister representing Lebanese president Michel Suleiman, forcing the collapse of PM Saad Hariri's government.
Saudi and Syrian officials have reportedly been working on a compromise that would resolve tensions in Lebanon over the imminent Special Tribunal for Lebanon (STL) indictment . Reports say that the STL may soon indict Hezbollah members in its investigation of the 2005 assassination of former Lebanese PM Rafik Hariri, father of Saad the current prime minister.
Hezbollah asked MP Michel Aoun to announce on Tuesday the failure of the Saudi-Syrian initiative and to blame March 14 alliance for the failure.
Lebanon's president asked Hariri to stay on as caretaker prime minister on Thursday after Hezbollah ministers and their allies resigned in a dispute over an investigation into the killing of Hariri's father. A statement issued by President Michel Suleiman called on the government to "continue in a caretaker capacity until a new government is formed".
Hezbollah according to reports has someone else in mind to lead the new government . Hezbollah MP Mohammed Raad unveiled on Thursday that the March 8 forces will name a personality with a history of national resistance to head the new government . Raad told reporters after meeting former President Emile Lahoud in response to a question on who will that be : "A personality with a national resistance biography, " Raad said