Lebanon Labor Union leader calls for strike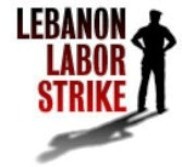 The leader of the General Labor Confederation Union Ghassan Ghosn set the second half of January as a strike date to protest against the high fuel prices in Lebanon.
Energy Minister Gebran Bassil commented on the call for strike by saying he " will support any street action to protest against the high fuel prices, " Central News Agency CNA reported .
Bassil is a key member of the Free patriotic Movement which is headed by MP Michel Aoun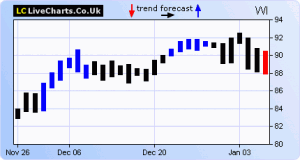 As the chart shows the prices of crude oil have gone up more than 10 % during the past 2 months. This is reflected in the prices of fuel in Lebanon, because the country is a pure importer .
The last time there was a major labor strike was in May 2008 when the strike over the government's economic policies evolved into clashes between rival Hezbollah and government supporters.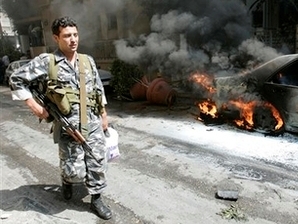 Observers are concerned that this time around Hezbollah is again trying to use the pro-Syrian labor union to achieve political gain, in a clear sign that the Iranian backed party is opposed to the Saudi-Syrian (S-S) deal.
Lebanon Prime Minister Saad Hariri said during an interview with the Al-Hayat newspaper to be published on Friday that the Saudi-Syrian (S-S) agreement on reducing tension in Lebanon had been finalized a long time ago,even before the Saudi King Abdullah traveled to New York for treatment.
Hariri also said : " I will not implement any commitment I made before the other party ( read Hezbollah) implements what it said it would commit to and added 'anything else is an attempt to sabotage the Saudi-Syrian efforts."
Saudi and Syrian officials have reportedly been working on a compromise that would resolve tensions in Lebanon over the imminent STL indictment . Reports say that the STL may soon indict Hezbollah members in its investigation of the 2005 assassination of former Lebanese PM Rafik Hariri.
Tensions in Lebanon have been simmering for months as it has become increasingly apparent the United Nations Special Tribunal for Lebanon STL) is leaning toward charging Hezbollah , the Shiite Muslim group with killing Mr. Hariri on Valentine's Day 2005.
The massive, 1,000 kilogram, car bomb that killed Mr. Hariri as he traveled along Beirut's fashionable seaside Corniche, left a crater 10 meters deep, knocked down several buildings and killed 21 other people, in addition to killing the billionaire tycoon who had rebuilt war-shattered Beirut.
Lebanese politicians fear any indictment of Hezbollah members for the killing could lead to a situation where the group might militarily seize large parts of Lebanon, just it they did in May 2008, when it briefly grabbed control of the western part of Beirut and tried, but failed, to occupy the Druze stronghold of Mt. Lebanon.
For months now, rumors have hinted UN investigators have uncovered evidence a Hezbollah hit-squad carried out the killing.
Hezbollah's leaders have denied the charge.
Hezbollah leader Sayyed Hassan Nasrallah also warned all Lebanese last November not to assist UN investigators, saying to do so would be tantamount to an attack on his movement.
Nasrallah vowed to "cut off the hand" of anyone who tried to arrest a Hezbollah fighter.