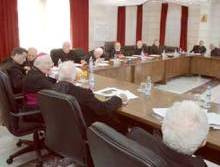 Maronite Bishops on Wednesday condemned the attacks on Christians in Iraq and Egypt and urged the top leaders to take action to preserve the Christian presence in the Middle East, according to a statement issued on Wednesday at the end of their monthly meeting in Bkirki.
"These massacres necessitate various officials, political and religious, to take measures to maintain Christian presence in the Middle East and put an end to these attacks," said the statement
"We must close ranks to ward off dangers," the statement said and added
"divisions between Lebanese parties make us worry about the future of Lebanon." The statement called on the rival political camps to "work together for the good of the country."
An explosion in front of a Coptic church in Alexandria, Egypt on Saturday just a few minutes into 2011( at 12:20 ) left behind 23 dead and dozens of seriously injured churchgoers and passers-by. The suicide bombing sparked worldwide condemnation of violence against Middle East Christians.
US worried about attacks
The United States submitted a statement Tuesday stating that they are "deeply concerned" about the rise of attacks against Christians in parts of Africa and the Middle East,
the Associated Press reported Jan. 4.
"We are certainly aware of a recent string of attacks against Christians from Iraq to Egypt to Nigeria," State Department spokesman Philip Crowley said. "We are deeply concerned about what seems to be an increasing trend."
Crowley told the reporters that the US State Department condemns all violence based on religion or ethnicity and includes such attacks in their annual human rights report.
He added that he was wary to make any "sweeping statements" on whether the attacks in Iraq have any "bearing on what's happening in other countries such as Egypt or Nigeria," and that these incidents "are all being investigated."
"There are pressures on minority groups in these countries, and we would hope and expect that … in those respective governments, we'll fully investigate these attacks and bring those responsible to justice," he said.