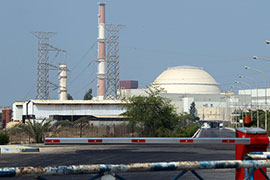 Iran has confirmed that it has invited foreign diplomats to tour its nuclear facilities, but apparently did not include any from the United States.
Foreign Ministry spokesman Ramin Mehmanparast said Tuesday that invitations had been extended to representatives of some European Union (EU) countries, a group of non-aligned nations and some of the five permanent representatives of the U.N. Security Council and Germany, a group known as P5 +1.
He said the representatives had been invited to tour the sites before Iran and the P5 + 1 hold talks on his country's nuclear program in Turkey late this month.
He did not specify if the U.S. received an invitation, but earlier the Associated Press said the U.S. apparently was not invited. The U.S. has been one of the harshest critics of Iran's nuclear program.
The news agency also reported senior Iranian envoy Ali Asghar Soltanieh offered the selected representatives all-expenses paid visit to the nuclear sites on January 15-16.
On Tuesday, China confirmed it has received an invitation but did not specify if it would send a representative. A foreign ministry spokesman said China was in communication with Iran. News reports say Hungary, which holds the rotating EU presidency, was also included.
Iranian state-run media quote Mehmanparast as saying his country's invitations are in line with previous measures regarding its "transparent and peaceful nuclear activities."
Iranian officials say the tour would include a visit to the country's uranium enrichment site at Natanz as well as its heavy water facility at Arak.
Western powers want Iran to halt its enrichment program, which they suspect is a cover for an effort to build a nuclear arsenal. Iran says it has the right to enrich uranium for civilian use and asserts that it does not want atomic weapons.
The U.N. Security Council has imposed four sets of sanctions on Iran for its refusal to suspend enrichment. The U.S, the European Union and other nations have also imposed economic sanctions on Tehran. VOA