Aoun attacks Geagea, Harb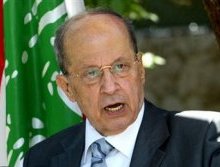 Free Patriotic Movement leader MP Michel Aoun launched an attack against Lebanese Forces leader Samir Geagea and Labor Minster Boutros Harb, after the movement's weekly meeting:
"Unfortunately, wrong choices in politics are the ones that put the Christians in danger," Aoun said on Tuesday, in response to Lebanese Forces leader Samir Geagea's Monday remarks, in which he implied that Aoun's policies can be a danger to the Christians.
Aoun said Geagea made the remark because he sees me following a policy of openness and dialogue, while for him , cooperation with the US and with Israel mean security."
Aoun said: "The security of the Christian citizen is the state's responsibility."
Aoun also attacked Harb's real estate draft bill, calling it " unconstitutional and illegitimate", adding that Lebanese citizens have the right to buy land everywhere. "Are Christians selling their property out of their fear of a war or of the weak economy?" He asked
Harb defended on Friday his draft bill that calls for banning the sale of land between various Lebanese sects for 15 years.
"The real estate draft bill is reassure Lebanese Christians who believe there is a campaign to take over their property," said Harb in an interview on Friday with MTV.
Harb added: " The bill prevents Christian exodus from their hometowns and preserves their mixing with the other communities," Harb said.
Hezbollah is trying to change the face of Lebanon according to March 14 sources . The sources told Al Anbaa last Saturday that the sale of land by Christians to Hezbollah is a well organized affair .
Aoun is closely allied with Hezbollah
Commenting on his U turn over the relations with Syria Aoun said :
"I say that my problem was with Syria when it occupied Lebanon. It withdrew and now it is not our business to abolish it."
Aoun also attacked the Special Tribunal for Lebanon (STL)
"The gridlock in Lebanon does not come from the government, but from the Special Tribunal for Lebanon", he said adding that the tribunal that has lost its transparency."
Commenting on the Saudi-Syrian initiative to end Lebanon's impasse Aoun said that all media reports on the issue mislead the public, adding that the indictment in the investigation into the assassination of Lebanon's former Prime Minister Rafik Hariri will not create a conflict in Lebanon.
"Even if a hundred indictments are issued, Sunni-Shiite strife will not erupt in Lebanon," he stressed.
Tensions in Lebanon have been simmering for months as it has become increasingly apparent the United Nations Special Tribunal for Lebanon STL) is leaning toward charging Hezbollah , the Shiite Muslim group with killing Mr. Hariri on Valentine's Day 2005.
The massive, 1,000 kilogram, car bomb that killed Mr. Hariri as he traveled along Beirut's fashionable seaside Corniche, left a crater 10 meters deep, knocked down several buildings and killed 21 other people, in addition to killing the billionaire tycoon who had rebuilt war-shattered Beirut.
Lebanese politicians fear any indictment of Hezbollah members for the killing could lead to a situation where the group might militarily seize large parts of Lebanon, just it they did in May 2008, when it briefly grabbed control of the western part of Beirut and tried, but failed, to occupy the Druze stronghold of Mt. Lebanon.
For months now, rumors have hinted UN investigators have uncovered evidence a Hezbollah hit-squad carried out the killing.
Hezbollah's leaders have denied the charge.
Hezbollah leader Sayyed Hassan Nasrallah also warned all Lebanese last November not to assist UN investigators, saying to do so would be tantamount to an attack on his movement.
Nasrallah vowed to "cut off the hand" of anyone who tried to arrest a Hezbollah fighter.