1st casino brings moral dilemma to Syrian capital, report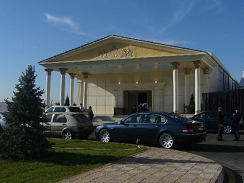 Gambling just got cheaper for Syrians. They no longer have to travel hundreds of miles to Lebanon or another neighboring country to try their odds — they can bet on blackjack, play poker, spin roulette wheels and face off with slot machines in a brand new, one of its kind casino.
The Syrian capital of Damascus is the longest-inhabited city on the planet, and is largely Muslim. So it was over the objection of many residents, Muslims who considering gambling shameful, that the casino opened its doors last week.
In the freezing winter cold, hundreds of gamblers, most of them Syrians, packed the fancy new marble building housing the Ocean Casino, which rises like a fortress on the highway between the Damascus airport and the capital.
The lure of slot machines is powerful, especially now that the casinos in Lebanon or Cyprus, once popular destinations for Syrian gamblers, have become so costly.
The casino quickly filled to capacity and dozens were forced to line up outside in the cold, waiting to cast their bets.
Many of them complained about the strict rules at the Ocean; mandatory suit and a tie, and passports must be shown upon entry. Not only are the rules strict, their enforcement seemed slightly haphazard.
"This is not fair. Over the past three days since the casino was opened, I lost some $5,000, and now they are telling me I am not allowed in," said Mohammed, a doctor in his 40s.
A Jordanian man was shouting aloud, wondering why he was not permitted in, when an Iraqi fellow managed to sneak in in front of him.
It is the first large, for-profit investment of its kind that was given the green light to open since the 70s, a many-million dollars project that with no windows and a dash of Vegas inside could be anywhere in the world.
The Ocean, which charges a $10 entrance fee, opens daily between 4 p.m. and 4 a.m., seven days a week.
There were no official announcements or billboards touting the venue. Journalists weren't even allowed to get in to report about the place, but CBS News managed to gain access.
The training of the staff by Lebanese instructors was kept quiet for three months. Croupiers, cashiers and security guards have been learning their trade behind the concrete-colossus hall, nearby the five-star Damascus International hotel.
The owner of the casino, Khaled Hboubati, who also owns the hotel, was not available to take questions last week as it opened.
Some businessmen consider the casino an important marker, emblematic of an economic future that could attract large numbers of rich Arab tourists from the Gulf to Syria and thus develop a service industry in the hard-strapped nation.
"To attract tourists, you don't only take them to see old Damascus. You have to give them attractions," one businessman said on condition his name not be used.
The pan-Arab Ba'ath party, which has ruled Syria since 1963, is secular. Islam is a faith of many faces, from the Wahhabis to the Sufis, from Shiites to Sunnis. There are also secular Muslims, of whom there are many in Syria.
The government, which has always kept a tight lid on Islamic movements, quietly banned the niqab, a face-covering veil worn by some Muslim women, in public universities in July.
It has also forced 1,200 female teachers out of their jobs or into non-teaching roles for their insistence on wearing the burqa (the head-to-toe Muslim veil).
Just two weeks ago, the Ministry of Waqef (Islamic Properties) invited representatives from 30 countries all over the world to a conference in Damascus to show peaceful coexistence among Syrians, where Christians make up about 10 percent of the population of 23 million.
Still, however, some Muslims say gambling is "haram"; forbidden by the Holy Quran, and they fear it will lead to the collapse of traditional Syrian society.
"The casino is against our teachings and morals. It challenges the edicts of Islam," said one taxi driver in his mid 30s, adding that, "gambling is the work of the devil." CBS