Flood threatens to isolate Australian city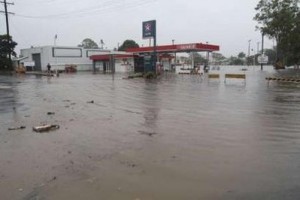 Residents of the Australian city of Rockhampton fled the area on Saturday as flood waters continue to rise, threatening to isolate the area for days.
The coastal city of around 75,000 is bracing for flood levels to peak Tuesday or Wednesday. Mayor Brad Carter warned about 40 per cent of the city could be affected by the surging waters, and residents could be forced to wait at least two weeks before returning home.
The community could also be isolated for up to an estimated 10 days as the airport and highways to the south and to the west have had to close down, Carter said.
Carter told CBC News that the river highs throughout the city are around 8.8 metres and are projected to reach up to 9.4 metres.
"The water is now starting to rise up through drains and break through the banks of the river and trying to inundate the suburban areas of Rockhampton," he said. "This means that we probably could have about 400 homes with water through and above the floorboards."
Carter said that residents in low-lying areas have heeded the government's message that they need to leave.
"We only have 20 people that are residing in an emergency evacuation centre that we established. However, as these waters now start to rise we may find that we'll have to encourage people to leave their homes and in some cases we may need to use the police powers to ship people. Hopefully, that's only a small number of people."
Days of driving rain last week swamped northeastern Australia, with around 200,000 people affected by flood waters in an area larger than France and Germany combined.
While the rain has stopped, rivers are still surging to new heights and overflowing into low-lying towns as the water makes its way toward the ocean.
"In many ways, it is a disaster of biblical proportions," Queensland Treasurer Andrew Fraser told reporters in the flooded city of Bundaberg on Saturday.
Officials say half of Queensland's 1.8 million square kilometres has been affected by the flooding. CBC