Egypt: 7 Die in Coptic Church Explosion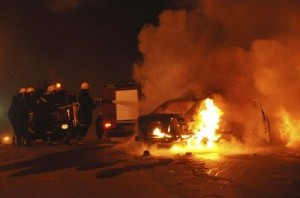 An explosion went off in front of a Coptic Christian church as worshipers emerged from a New Year's Mass in the northern port city of Alexandria early Saturday, killing at least 7 people and wounding 24, officials said.
After the blast, enraged Christians emerging from the church clashed with police officers and stormed a nearby mosque, prompting fights and volleys of stone throwing with Muslims, the police and witnesses said — a sign of the sectarian anger that has been arising with greater frequency in Egypt.
Nearly 1,000 Christians were at the Mass at the Saints Church, said Father Mena Adel. The service had just ended, and worshipers were leaving the building when the blast went off, about a half hour after midnight. NYT
Photo: Egyptian firemen try to put out a fire on a vehicle following a car bombing in front of a Coptic Christian church in the Egyptian city of Alexandria, Egypt, early Saturday Jan. 1, 2011.
Pho