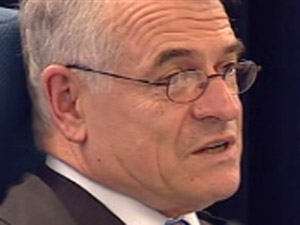 Justice David Baragwanath has been made a knight in recognition of his services as a judge of the Court of Appeal.
Sir David, becomes a Knight Companion of the New Zealand Order of Merit.
Sir David, who retired from the court earlier this year, in July, marked his 50th year in the law profession this year.
He is currently one of four appeal judges due to preside at the Special Tribunal for Lebanon (STL), a United Nations court operating in The Hague under international law.
The tribunal will investigate the 2005 assassination of former Prime Minister Rafik Hariri, who was killed when a car bomb tore through his motorcade near Beirut's downtown, killing him and 22 others.
Sir David was appointed a judge in the High Court in 1995, and a judge of the Court of Appeal at the end of 2007.
He presided over a number of high profile civil and criminal cases. His citation says that as a judge on the Court Appeal, he provided experience and collegiality to ensure the efficient working of the court.
He served as counsel assisting the Royal Commission of Inquiry into the Mt Erebus disaster and made many appearances in constitutional cases, leading for the New Zealand Maori Council and for tribal groups in the major appeals affecting land, forests and fisheries.
He also appeared in constitutional cases in the Cook Islands and Samoa as well as before the Privy Council.
He is the presiding judge on the Court of Appeal in Samoa.
Sir David is a former president of the Law Commission and has been a part-time lecturer in civil procedure and administrative law at the University of Auckland.
At a valedictory address at Auckland Law School, he questioned whether it was possible to globalise the law. He said the nation's domestic law needed to protect and enhance what was distinctive to New Zealand, and identify and adopt ideas from elsewhere that were suited to local conditions.
"In this globalised world … there is often no bright line between the domestic and the international. Each can and should inform the other," he said. tv.nz